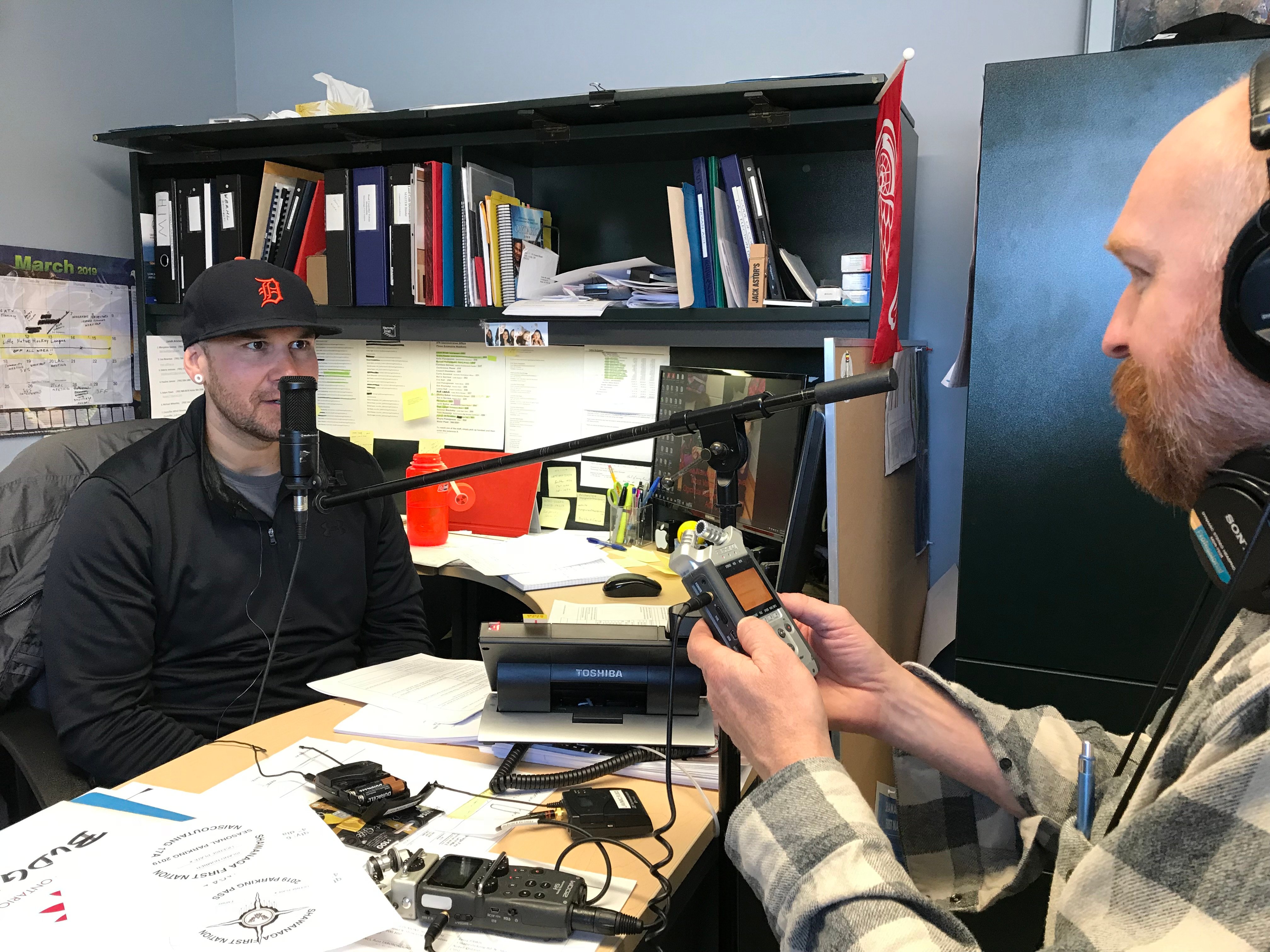 Shawanaga Lands Manager, Tobias McQuabbie, recording video narration with SVS's Jeremy Shute
So you have this fantastic new land use plan that you've worked on for two years, and you're so proud of the power it has given your Indigenous nation to assert jurisdiction and take control over your lands and your future. You want to shout it from the rooftops…but can anyone hear you?
Shawanaga First Nation, just north of Parry Sound, Ontario, found itself in exactly this position. The Lands Manager, Tobias McQuabbie, and his team decided to use video to get their message out. The result? Just a day after posting it to Facebook, the three-minute video they created had impressive traction. "Anishnabe people are visual and hands on learners," says Tobias. "So these videos really hit home. Thousands of views in less than a few hours." At the time of publication the Land Use Plan video had hit 3.3K views and climbing.
Watch the videos here:
https://www.facebook.com/shawanagafirstnation/videos/413422605914998/
https://www.facebook.com/shawanagafirstnation/videos/440324399858757/
Shawanaga produced two videos: one to promote their new Land Use Plan (the main focus of this blog), and a second to inform the membership about the Environmental Management Plan. We had the honour of helping bring their vision for these videos to life. Read on for some suggestions Tobias and our team have on how you can create a powerful, inspiring video to get your message out.
For a Video Project, Planning is Everything
Three crucial questions to get clear on before you start:
Who is your audience?
For Shawanaga First Nation, the answer was more than one. The primary audience was the community itself. The secondary audience was other Indigenous nations, particularly those contemplating a planning process. The widest audience was the public at large (particularly people who need their minds expanded when it comes to the brilliant things happening in Indigenous nations).
What's the core message you want them to come away with?
If you're making a short video (2-3 minutes is typical), aim for one core message, with a maximum of two sub-messages. People are busy and distracted; trying to cram too much information in will just leave them confused and unclear. For Shawanaga, the core message was that the new land use plan helps put the control of their future in their hands. If you watch closely, you'll see how all of the points in the video circle back to that main take-home point. Another key element that makes the take-home point stick is to make it personal: speak to your audience directly. With your visuals and your words, make them see how your message can impact their lives and what they most care about.
What do you want them to do?
Leave people with a clear ask, something they will feel compelled to do after they've watched your video. Make it simple and accessible. Shawanaga's video ends with a website you can visit to learn more and get involved.
The logistics of a great video process
Gather existing content
Chances are you have some existing video content or photographs kicking around that would help tell your story. As you're developing your ideas, ask around for what already exists – it's a lot easier than reshooting! Shawanaga had a secret weapon in terms of existing content: a drone, and a great drone operator in Summer Blacksky, the Lands Clerk. The footage of the land and water from above is killer gorgeous. There was also footage from the fish hatchery, including awesome under water shots, and spear fishing footage. Remember, the existing material doesn't have to be professional quality, as long as it helps tell the story.
Write the script
For a 2-3 minute short, your narration will usually be around 150 words, max. Think about building what's called a narrative arc – a story with a beginning that outlines the problem (everyone likes drama!), a middle that introduces the solution and expands on it, and an ending that compels people to act.
Make a story board
A story board is a plan for your video, often made in a table or spreadsheet. It helps you visualize how your narration will fit with the visuals on the screen. Often there will be a column for the narration, a separate column that outlines what will show on the screen, and a third column for any text you plan to add. It is the best way to focus your efforts when you are out shooting so you don't end up with 50 hours of footage to comb through. Skip this step at your peril!
Find a narrator
Choose someone who speaks clearly and doesn't mind reading out loud. You might want to consider using a blend of male and female voices, depending on your message and content. Choosing someone who is familiar with the project is helpful, too – this personal investment often shows up in their voice. Tobias volunteered to narrate Shawanaga's video, and Summer got roped in, too.
Enroll your "actors"
Acting in one of these short videos can be a blast – and it should be! When you need to engage people to play a part in your story, emphasize the fun, and remind them that they are the experts in playing themselves – they can't go wrong, really! Also emphasize the fact that the editing process will select the best takes; there is no rush to "get it right." This advice goes for interview subjects, too. Let them tell their story as they want to tell it. Give them the space to express themselves and be generous with your listening. It's into that generous listening that people say the most powerful things.
Enroll your community
Give everyone the heads up that you will be filming, so people aren't alarmed when they see you wandering around with cameras. At Shawanaga, people were incredibly willing to be involved in the project, as soon as they understood what it was for and about. From the water treatment plant operator to Chief and Council, everyone engaged in the process.
Capture good quality audio
People don't have much patience for poor quality audio. If your video looks good but doesn't sound good, your audience won't pay attention and the words from your subjects will be hard to hear and understand. If you don't have clear audio, consider adding subtitles.
Invest in a good microphone, particularly to record the narration. Generally, the closer the mic is to the audio source the better. This means that if someone is speaking on camera, getting a microphone close to their mouth will capture better quality audio then having a mic (even a shotgun mic) sitting at a distance attached to a camera. A good option is a lavaliere or lapel microphone. They can be hidden from view of the camera in people's clothes and they can capture a speaking voice very clearly.
Shoot for maximum impact
This topic is a blog in itself, but here are a few tips:
Remember that everything in the frame is important (even those people way in the background).
Pick a scene, hit record, and DON'T MOVE for at least five to ten seconds. We're not filming the Blair Witch Project.
Shoot each scene for a few seconds longer than you need to – that extra footage is helpful in the editing process.
Don't assume the first angle you choose to shoot from is the best. Move around the thing you are shooting. Get low, get high, switch it up to see how changing your position changes the story.
All that being said, you don't need professional gear to create a video with impact. You likely have access to a phone with a high enough quality camera to make this happen.
Putting it all together
Once you have recorded the narration, finished your shoot and backed everything up, you are ready to edit. This is where the magic really happens. There are lots of free online editing tools that can help you organize the footage, audio, and any music you want to add. That being said, this is the place to invest in some professional editing if you have budget for it. We are all accustomed to seeing and hearing quality video these days. Investing in this part of the process will take your video to the next level, no question.
The fine print: permission forms, etc.
Make sure to have everyone involved sign permission forms that make it clear they are okay to be shown and heard in your video. If children are in your video, make double sure a parent or guardian has signed a permission form and is aware of how their child will be portrayed.
Pushing it out there
You know where your audience likes to get its information: put your video where they'll see it. Facebook is a good bet, but distributing across many social channels will likely hit more of your audience. Community gatherings are also great opportunities to show your video. Make sure you have powerful enough speakers for the space you are in.
So that in a nutshell is how to create a video that helps get your story out. Here's Tobias's information if you'd like to learn more about the process from his perspective: landsmanager@shawanagafirstnation.ca
And if you'd like more information or tips on how to get started with your project, get in touch any time.
Indigenous Planning Blog Series
This is the sixth post in a series that explores ways Indigenous communities have used the planning process to create an exciting vision for their future and a realistic roadmap to get there – and some resources and ideas for you to do the same. We hope you join us for the rest of the ride. And please get in touch if there's a topic you'd like us to explore.
Read more posts in this series:
Five Crucial Elements Every Land Use Plan Needs
Three Questions to a Clear Vision
Indigenous Planning Cheat Sheet: Five Types, Tips and Resources
Indigenous Nations Lead the Way in Marine Planning: How to Get Involved
Looking for planning help?
If you are trying to figure out how to get started, do give us a shout. We'd be happy to discuss your options and help you weigh the pros and cons of your planning options. We're a team of self-proclaimed planning geeks who love to talk about this stuff, so don't hesitate to get in touch.
Looking for a quick overview of some planning options you might be considering?
Like what you're reading? Get future posts delivered right to your inbox:
We are a Canadian B Corp, and we assist Indigenous communities with support throughout regulatory processes surrounding major development projects like mines, hydroelectric facilities, transmission lines, highway expansions, oil and gas pipelines, natural resource transport applications and nuclear power.
We have deep context and experience behind the recommendations we provide, having worked for our clients on almost every major project in Canada over the last 10 years. For us, it's all about building long-term relationships with our clients. We want to get to know you and what you want to do so we can help you move your plans forward.