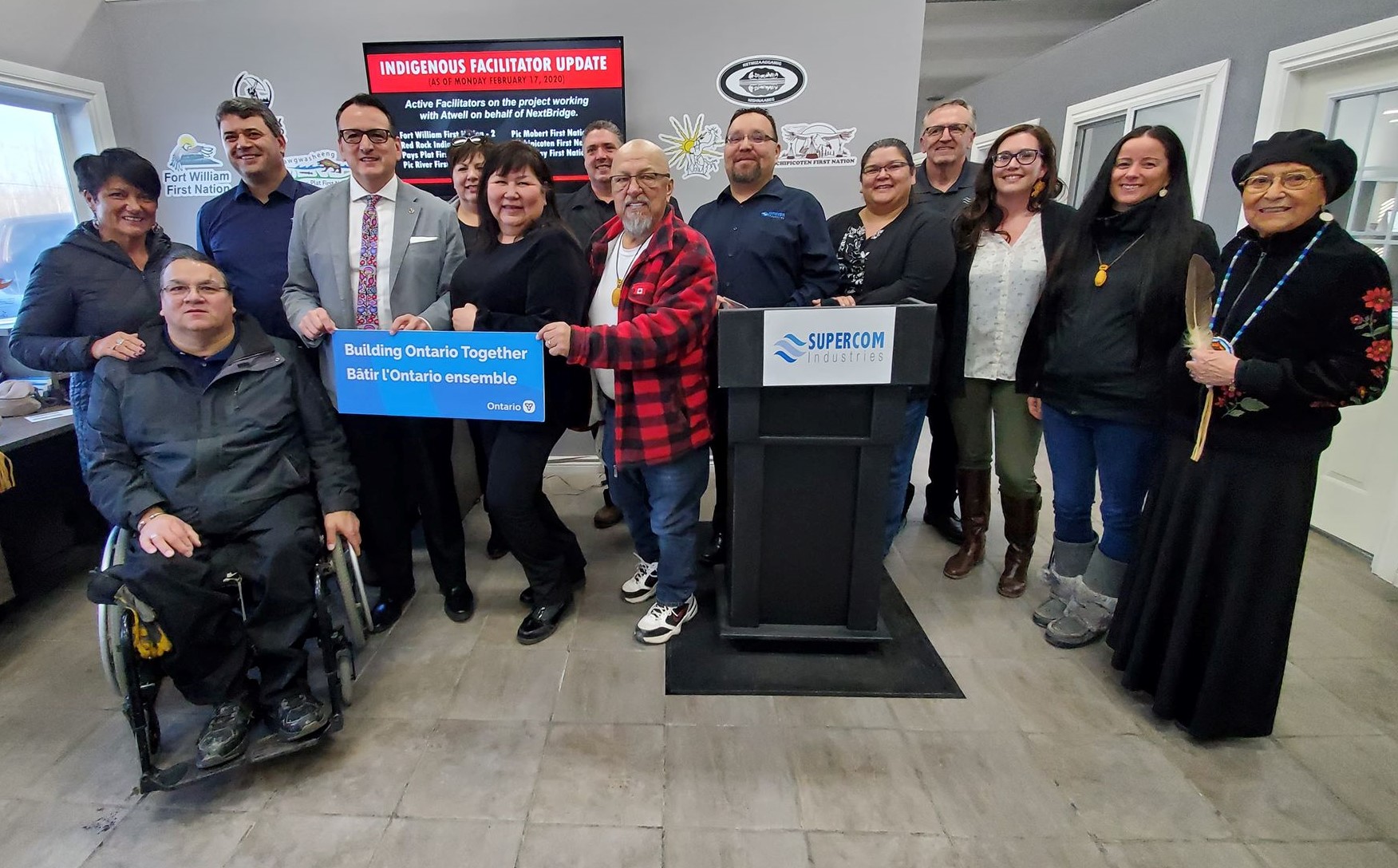 The number of successful, thriving Indigenous businesses that got their start connected to the resource sector is growing at an exciting rate. In our work with Indigenous nations from coast to coast to coast, we have encountered many inspiring examples. Four of these dynamic businesses - along with a mining producer and the First Nation they have recently struck a novel agreement with - have agreed to share their stories this year in a session at the PDAC (Prospectors & Developers Association of Canada) Indigenous Program. Read all about the session here:
In the lead-up to the March 1-4th conference in Toronto, we are profiling each of these businesses in a blog series. Guest authors from each business have graciously shared their company stories. Today's feature is Supercom Industries.
Supercom Industries
Founded: 2016
Guest Authors/PDAC panelist: Robert Starr, Business Project Manager and Joe Moses, Founding Board Member
Company Overview
Supercom Industries LP (Supercom) is a 100% First Nation owned business. Supercom is a partnership of six First Nations – Fort William First Nation, Red Rock Indian Band, Pays Plat First Nation, Biigtigong Nishnaabeg, Pic Mobert First Nation and Michipicoten First Nation – and Supercom Industries Ltd, the general partner corporation owned by the same six First Nations.
Each First Nation is located along the north shore of Lake Superior in Northwestern Ontario and has its own governance structure, territory, and culture. The traditional territories of our six First Nations are inherently connected to the natural resources of the north shore. Today, our collective territories are the route of the East West Tie Transmission Project – one of Ontario's highest priority transmission lines linking Thunder Bay to Wawa.
The Creation of Supercom Industries LP
The update to electricity supply infrastructure has been, and remains an evolving priority for the province of Ontario during the past decade. Supercom communities have always maintained the assertion of their aboriginal treaty/ land rights, and a persistent vision of leading infrastructure development in their traditional territory along the north shore of Lake Superior. Since early stages of conception and development of this multi-million dollar infrastructure project, leadership of our communities have promoted and advocated for the active engagement and meaningful participation of our communities and our members.
In spring of 2016, Chiefs, councillors, and community representatives of the identified "proximate" six First Nations communities most impacted by infrastructure development of the East West Tie Transmission Project, established Supercom Industries LP. The board consisted of six community delegates, which would serve as the founding board of directors for the newly established corporation. With guidance and input from their communities and leadership, the founding board would be mandated to generate and negotiate the following objectives:
Financial Objectives:
Benefit Payments to communities (for impact on lands and resources)

Revenue sharing agreements (commission-based arrangements)

Revenue earned through equity/ownership positions of companies/ partnerships engaged in the construction and supply chain of the EWT Project

Community investments

Other indirect investment opportunities
Sales Objectives
Increase and maximize sales targets relating to existing as well as newly established community owned & operated businesses
Employment and Training Objectives
Improve Aboriginal employee/workforce metrics

Improve Aboriginal employee training metrics

Improve Aboriginal workforce skills and education metrics

Reduce and minimize Aboriginal employee annual turnover

Scholarships/ financial training & education support

Educational institution partnership opportunities

Aboriginal retention/training programs

Aboriginal business/workforce inventory
Over a period of the following 24 months, the board and staff of Supercom established and implemented a strategy and business plan that would involve rigorous meetings, negotiations, and community consultations, which included the following:
Meeting and negotiating joint venture agreements with three general contractors competing for the construction of the East West Tie Project
Establishing 11 new joint venture contracts with 3 major sub-contractors, and 8 additional supply chain/ sub-contractor contractors totalling in excess of $100 million in revenues to new business throughout the duration of the project
Engaging government, non-profit, and education partners to create and develop a multi-year training program successfully recruiting and training 250+ community members across all levels of careers in the Energy Transmission Industry
Conducting numerous community stakeholder engagement sessions with the 6 Supercom "proximate" communities, 8 "non-proximate" First Nations communities, 4 Metis Organizations, and various municipal and regional community organizations located across the north shore of Lake Superior
In early 2019, Nextbridge Infrastructure LP was awarded a leave to construct by the Ontario Energy Board. Subsequently, Supeercom and its joint venture partner Valard Construction, was named the general contractor and awarded the mandate to construct the EWT Project. Inspired by the vision of community leaders of the past decade, Supercom and its numerous team members and partners have established and implemented a world-class model of indigenous participation that will positively impact our communities, membership, and surrounding region for decades to come.
We look forward to the valuable contribution that Supercom will bring to the discussion in March at PDAC.
#PDAC Blog Series: Sharing Business Success Stories
If you aren't coming to PDAC this year, never fear: In the lead-up to the March 1-4th conference, we are profiling each of these businesses in a blog series. Guest authors from each business have graciously shared their company stories.
Here's the full list of participants for the PDAC panel with links to their awesome businesses. Stay tuned for the next instalment!
Jordan Baptiste, Director, Business Development
Ginny Michano, President, Pawgwasheeng Economic Development Corporation
Robert Starr, Business Project Manager, Supercom Industries
Marsha Smoke, President, Moccasin Trails
Alexandre Meterissian, Vice-President Government Affairs, Blackrock Metals
Chief Curtis Bosum, Ouje-Bougoumou Cree Nation
Facilitators: Laura Taylor, SVS and Harvey Sands, Richter
Read the other blogs in this series:
Like what you're reading?
We are an Canadian B Corp, and we assist Indigenous communities with support throughout regulatory processes surrounding major development projects like mines, hydroelectric facilities, transmission lines, highway expansions, oil and gas pipelines, natural resource transport applications and nuclear power.
We have deep context and experience behind the recommendations we provide, having worked for our clients on almost every major project in Canada over the last 10 years. For us, it's all about building long-term relationships with our clients. We want to get to know you and what you want to do so we can help you move your plans forward.