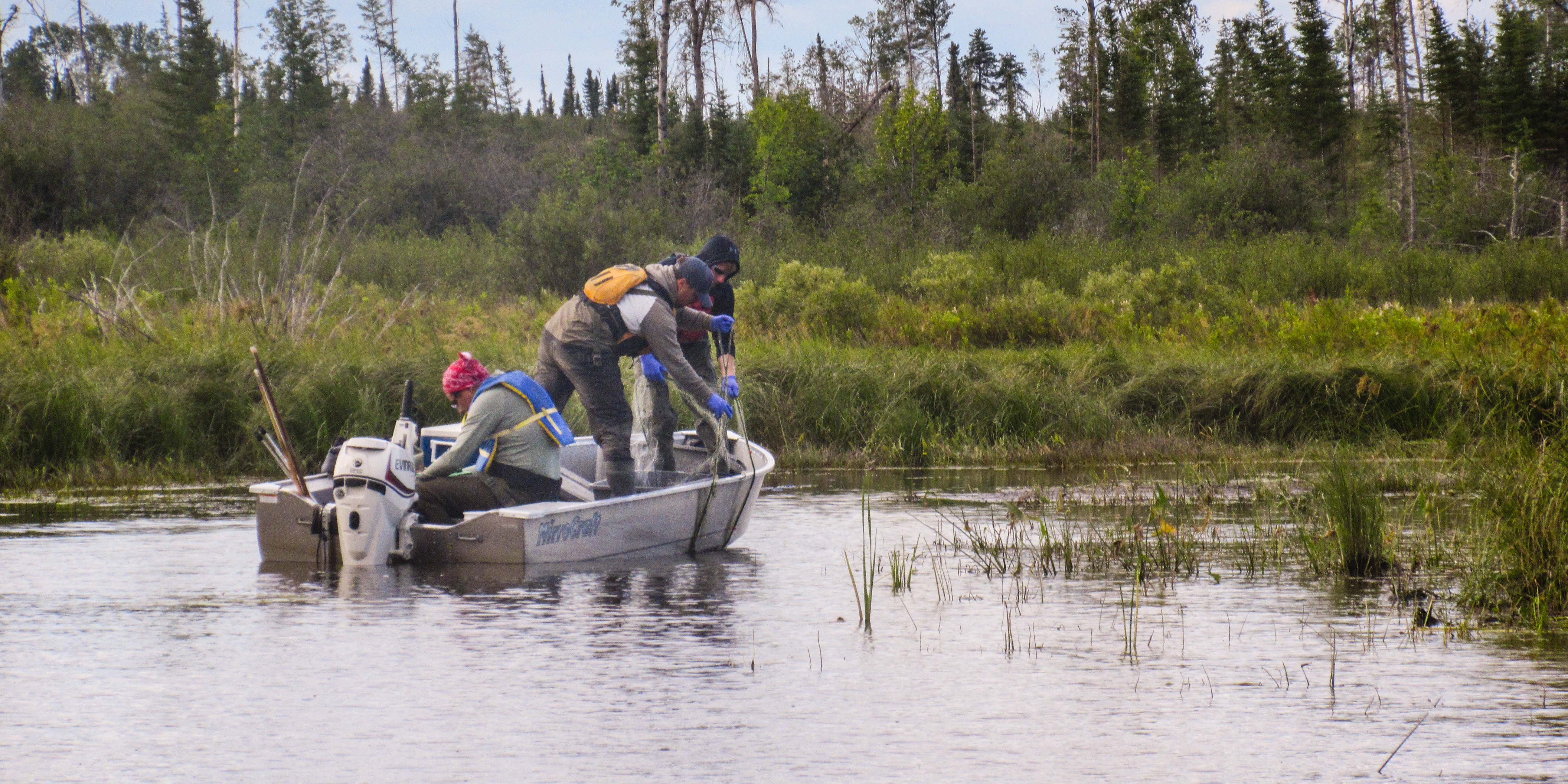 Miles Pitchenese, Levi Snook and Jody Duncan sampling in 2019
"Our team is raring to go. We want a better tomorrow. With the sampling we may see a better tomorrow." – Miles Pitchenese, Contaminants Coordinator, Eagle Lake First Nation
For the communities connected to the English and Wabigoon River systems in northwestern Ontario, weighing the threat of COVID-19 infection with the decades-long danger of mercury contamination and its massive impacts on human health is a somber reality. Eagle Lake First Nation is among the participants in the ongoing scientific investigations of the persistent mercury contamination that has infamously devastated generations in Asubpeeschoseewagong Netum Anishinabek (Grassy Narrows First Nation) and Wabaseemoong Independent Nations.
Weighing the risks with lives at stake
When the pandemic hit, Miles Pitchenese, Contaminants Coordinator with Eagle Lake First Nation (ELFN), was deep in the planning phase for this year's sampling program. In 2019, Miles and his team worked alongside our crew from Shared Value Solutions (SVS) to collect sediment, water, invertebrate and fish samples from eight wetlands along the mainstem of the Wabigoon River in spring and late summer. This year's program involves collecting water sampling at 41 sites along the river system in spring, summer and fall.
"We're doing this long-term study to better understand where the mercury is in the system, and how it is moving," explains Miles. The results of these investigations will inform the remediation plan to deal with the contamination. The work is funded through the English and Wabigoon Rivers Remediation Panel established through the English and Wabigoon Rivers Remediation Act, 2017. This Act sets out the framework for the management of the English and Wabigoon Rivers Remediation Trust in funding remediation of mercury and other contaminants in the Rivers. Eagle Lake First Nation actively participates in supporting the remediation work of the Panel.
Losing the season not an option
Back in March, Miles decided that losing an entire field season because of COVID-19 was just not an option. "I made a big push for this program because we can't afford the lost opportunity to better understand our river."
Alison Fraser, SVS's project director, echoes Miles' urgency: "With these sort of projects, you need a pretty robust data set to remediate a system this big, so losing a whole field sampling program has significant implications on how quickly the mercury contamination can be addressed," she says. "People are sick. People have mercury poisoning. Missing out on a field season when people are dying is devastating for communities that are really impacted by the mercury."
For Miles, there are other important reasons to go ahead with the sampling this year. "I would hate to lose any type of fieldwork, quite honestly. It gets you out on the land, gets you to pay close attention to changes you notice. We definitely want to make sure there isn't other contamination happening on our territory." A main reason to go ahead is deeply connected to his identity: "Being on the land brings us closer to it, to our ancestors, and to our culture, which basically comes from Mother Earth."
Eagle Lake First Nation leads the way
As Indigenous communities entered the pandemic lock-down, Miles and Alison, along with Levi Snook, SVS's field lead on the project, put their heads together to come up with a plan that would allow the sampling program to continue while keeping everyone safe from the virus. From the outset, it was clear that SVS would follow Eagle Lake's lead.
"Miles has been a rock star in this whole pandemic sampling planning," says Alison. He went to work figuring out all the ways to help the community feel comfortable with the plans. For example, he decided to move the fridge from the lands office to his house off-reserve so the team wouldn't have to enter the Lands office every day with their water samples.
The key thing Miles did in the early days of the lock-down was to send Eagle Lake's pandemic plan so we could compare it to the measures SVS had put in place.
"The final health and safety plan for the sampling program was based on what ELFN provided. It absolutely came from the community. They were involved in its development and we followed their lead from day one, back in March," says Alison.
The field crews will be operating according to Provincial guidance on COVID 19 distancing measures in addition to the protocols ELFN and SVS have established for working in a safe manner during the pandemic.
Highlights of the health and safety plan:
Everyone will complete temperature checks at daily tailgate meetings
Field crews will drive in separate vehicles and additional boats will be used to maintain distance in the field (two people per boat instead of three)
Field crews will stay consistent through the whole sampling program
SVS staff will be self-isolating 14 days before travel to fieldwork sites
In order to maintain distance and stay consistent with sampling protocols, one boat will be responsible for all mercury sampling, and the other boat will be responsible for all non-mercury samples
All team members will wear appropriate Personal Protective Equipment (PPE) at all times
SVS field crew members will not enter the Eagle Lake community
All field staff are being thoroughly trained on how to follow proper protocols before the first sampling trip, which is scheduled for the end of June. "Our team is itching to get out there," says Alison. Self-isolation for 14 days in advance of the trip is no problem. "Anything it takes to keep everyone safe and keep this important work moving!"
The silver lining
Miles sees a silver lining to all of this extra preparation. "Some people might not be too sure what a field plan looks like under a pandemic. It's great to be able to lead this work through the Panel and make a template of what we are doing this year. If there was another pandemic, at least we'll be better prepared."
We'll check in with Miles, Levi and Alison and report back on how the first trip goes – stay tuned!
Health and Safety Plan template available
If your community could use a template to help plan for your field program, please get in touch. Contact Alison Fraser or Erin Knight and they'll help you out.
Pandemic Work Innovations Blog Series:
Protecting Rights and Interests During COVID-19
During the pandemic, pretty much everything about how we live and work has been turned on its head. Social distancing, isolation and community shut downs to protect the most vulnerable - including the Elders whose wisdom usual guides decision-making - mean that business as usual is impossible. However, regulatory processes for development projects such as mines and power projects are marching on in the name of economic recovery. Many of us have been left wondering how to continue our research in the age of social distancing – and if indeed it is possible at all. The larger question we have set out to answer in this blog series: How can we best address the needs of our clients using remote tools?
Read other posts in this series:
Remote Research Adventures with the Algonquins of Ontario
Acho Dene Koe First Nation Benefits from Remote Lands Department During Pandemic
Shawanaga First Nation Pilots Field Guide to Research During COVID-19
Like what you're reading?
We are a Canadian B Corp, and we assist Indigenous communities with support throughout regulatory processes surrounding major development projects like mines, hydroelectric facilities, transmission lines, highway expansions, oil and gas pipelines, natural resource transport applications and nuclear power.
We have deep context and experience behind the recommendations we provide, having worked for our clients on almost every major project in Canada over the last 10 years. For us, it's all about building long-term relationships with our clients. We want to get to know you and what you want to do so we can help you move your plans forward.