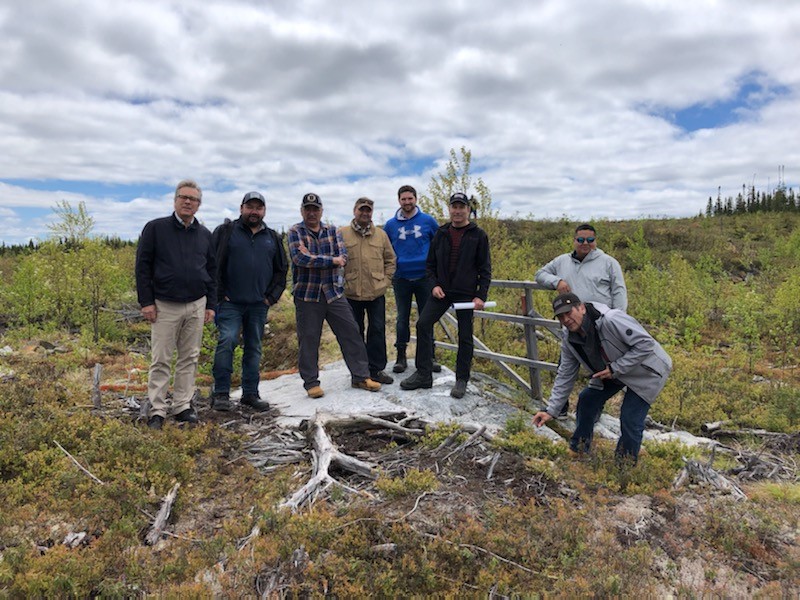 In our work with Indigenous nations from coast to coast to coast, we have encountered many inspiring example of Indigenous businesses that got their start connected to the resource sector. Four of these dynamic businesses - along with a mining producer and the First Nation they have recently struck a novel agreement with - have agreed to share their stories this year in a session at the PDAC (Prospectors & Developers Association of Canada) Indigenous Program. Read all about the session here:
In the lead-up to the March 1-4th conference in Toronto, we are profiling each of these businesses in a blog series. Guest authors from each business have graciously shared their company stories. Today's feature is an exploration of the novel proponent-First Nation business relationship between BlackRock Metals and Oujé-Bougoumou Cree Nation.
BlackRock Metals and Oujé-Bougoumou Cree Nation
Guest Author/PDAC panelists: Alexandre Meterissian, Vice-President Government Affairs, BlackRock Metals, with Chief Curtis Bosum, Ouje-Bougoumou Cree Nation
"What Alex describes in this article did not happen on its own. It came out of our community's insistence to look beyond the traditional box of limited benefits that mining companies typically offer to Indigenous communities. We believed that we could develop new standards in mutually meaningful benefits for both the Crees and BlackRock by negotiating a genuine partnership. It took some hard bargaining and tough discussions to ultimately come to an alignment of views. BlackRock has shown a commitment to respectful Indigenous relationships and to long-term capacity building. We challenged them with a sole source and higher-level business ambition, and the company responded. We are proud of the meaningful Sole Source charter we created together."

Chief Curtis Bosum, Ouje-Bougoumou Cree Nation
A Novel Partnership
The following blog post offers an overview of the strong and mutually beneficial relationship between a proponent (BlackRock Metals) and a First Nation (Oujé-Bougoumou Cree Nation). This close relationship has led to innovative developments and set a new standard for mining on Cree territory in Quebec, as well as offering a framework for the rest of Canada to follow.
The BlackRock

Project

BlackRock Metals is a Canadian company with offices in Chibougamau, Saguenay and Toronto, and with its head office in Montreal. Our experienced management team is supported by an investor's group of North American private equity funds, Canadian Government organizations and world-class financial institutions. BlackRock Metals has committed to raising over $1 billion to fund the construction of the fully permitted BlackRock project in the province of Quebec.

BlackRock has designed a fully integrated and environmentally enhanced metals and materials manufacturing operation. This operation is capable of processing ore from its wholly owned VTM deposit located on Oujé-Bougoumou Cree Nation land (near Chibougamau, Quebec) and transforming the VTM concentrate at its metallurgical plant to be built in the Port of Grande-Anse in the Saguenay industrial park. The project has received the necessary certificates of authorization from the Government of Québec.
Guiding Philosophy
Since the founding of BlackRock Metals in 2008, the BlackRock team has sought to present the social acceptability of its project as one of its core values. At our mining location with the local Oujé-Bougoumou Cree Nation, the team established two guiding principles that have become the pillars for all its interactions with the community:
Radical transparency
Long-term capacity building
It's worth noting that the project received authorization in 2013 under a previous business model, without a metallurgical plant and a higher extraction of ore. In 2015, a revised business model was developed and the mutually beneficial IBA (Impact Benefit Agreement) was modified to reflect the agreed-upon changes. However, as time went on, the IBA wasn't fully aligned with the goals and principles of the local community or the Cree Nation Government. We recognized that the Cree Nation's continued growth and prosperity comes from an increase in the scope and the capacity of its community for projects like BlackRock, for generations to come.
BlackRock understood the preoccupations and goals of the community, but we were also preoccupied by the difficult conditions in financial markets. Announcing that a previously signed IBA would have to be renegotiated could have put the company in a tenuous position. Instead of delaying the process or outright refusing, the BlackRock team chose to be radically transparent and, with an open spirit, worked with the community (and their advisors) through the financial challenges. Radical transparency helped build trust and mutual understanding. The results lead to innovations that we believe will be mutually beneficial for the Cree Nation and the BlackRock project on their lands. We hope that this experience and the leadership demonstrated by both the Cree Nation and the BlackRock team will serve as a benchmark for the mining industry.
Innovations
The Charter is a rule of procedures enacted by the Implementation Committee as set out in the IBA. This instrument provides flexibility to both parties and set the foundations for mutual discussions when adapting the governance of the IBA to the realities of the local community. This Charter has multiple aspects to it. Some of the most noteworthy, which will allow true capacity building, are the provisions related to procurements during the different stages of the project.
Under this new model, BlackRock must make contracts available to pre-approved Cree enterprises, as defined by the Cree Nation Government, for a period of 30 days. The pre-approved Cree enterprises receive details on the contracts such as their form, the scope of work, the qualifications required, the criteria for evaluation and filing dates. All before any third parties are contacted with the contracts. BlackRock must also help guide these enterprises through the procurement process and help correct issues with their bids, should they arise. If there are multiple Cree enterprises bidding on the same contract, then BlackRock must support the company from Oujé-Bougoumou, our local Nation. The agreement also stipulates that these contracts must be commercially reasonable in order to not lead to cost overruns for the company. Both the Oujé-Bougoumou Cree Nation and BlackRock wish to build long term capacities and to mutually succeed.
To further elaborate on our philosophy of radical transparency, we suggested that the Cree Nation should place a Business Opportunities & Employment coordinator directly within our project team at our head office in Montreal. BlackRock also proposed that this person should be from the Cree Nation in order to further maintain transparency and close ties with the local community. We are currently helping the Cree Nation Government in its search for such a person.
Multi-level Communications
As innovative as are the Charter, procurement innovations and the business opportunities coordinator, it all ultimately comes down to one-on-one human relations. Instead of having a central point of contact within our organization, we've decided to have multiple levels of contact between the community and the BlackRock team. The different levels in both structures are in constant communication with each other. However, we believe that the most important aspect is maintaining regular contact directly between the Chiefs and the senior leaders of the company. This close relationship and the trust we've built have spread throughout both organizations, thus allowing for better work and stronger growth. We're proud of what we've accomplished together and have established strong ties with the Cree community along the way. We'd like to note that without the excellent leadership of Chief Curtis and his team, none of this would have been possible.
Going Beyond the IBA: Building Rail Capacity
As we look to the future, BlackRock wants to help the Cree Nation deliver on its objective of bringing rail transportation onto its territory. Opening the land of Eeyou-Istchee to railways will generate additional opportunities for growth and development for future generations. BlackRock will eventually require a functional 25km rail spur between the mining location and the CN rail line. We eagerly plan on working beyond the IBA with Chief Curtis and the CNG. We wish to help develop a viable, long-term rail solution that will enhance the already significant social benefits and capacity building advancements for the local community.
We look forward to the valuable contribution that this unique partnership will bring to the discussion in March at PDAC.
#PDAC Blog Series: Sharing Business Success Stories
If you aren't coming to PDAC this year, never fear: In the lead-up to the March 1-4th conference, we are profiling each of these businesses in a blog series. Guest authors from each business have graciously shared their company stories.
Previous posts:
Here's the full list of participants for the PDAC panel with links to their awesome businesses. Stay tuned for the next instalment!
Jordan Baptiste, Director, Business Development
Ginny Michano, President, Pawgwasheeng Economic Development Corporation
Robert Starr, Business Project Manager, Supercom Industries
Marsha Smoke, President, Moccasin Trails
Alexandre Meterissian, Vice-President Government Affairs, Blackrock Metals
Chief Curtis Bosum, Ouje-Bougoumou Cree Nation
Facilitators: Laura Taylor, SVS and Harvey Sands, Richter
Like what you're reading?
We are an Canadian B Corp, and we assist Indigenous communities with support throughout regulatory processes surrounding major development projects like mines, hydroelectric facilities, transmission lines, highway expansions, oil and gas pipelines, natural resource transport applications and nuclear power.
We have deep context and experience behind the recommendations we provide, having worked for our clients on almost every major project in Canada over the last 10 years. For us, it's all about building long-term relationships with our clients. We want to get to know you and what you want to do so we can help you move your plans forward.