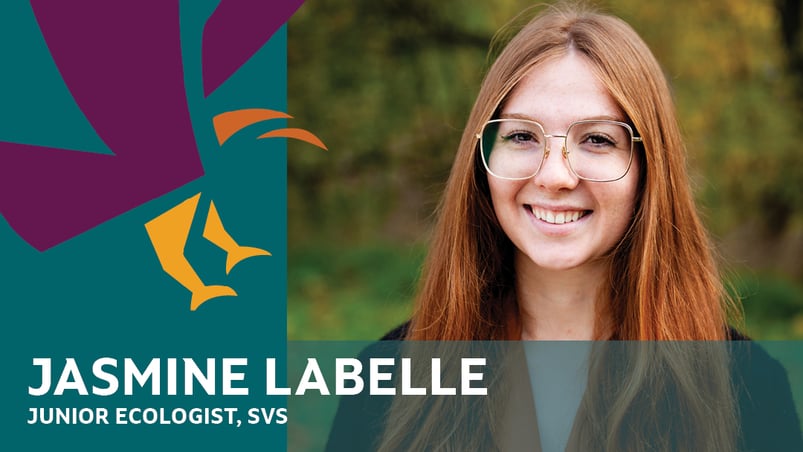 Her love of the lands and waters, and passion for the environment, brought her to the field of ecology
Meet Jasmine Labelle: An environmental scientist with Métis and Quebecois heritage. She's our February #wcw (Women Crush Wednesday), but she is so much more!
From the Microscope to the Bush
Jasmine's love of the environment started with a trip to the Reuse Centre as a young child where she bought a mini microscope. She loved being able to observe the world at that level and became "microscope obsessed." From there, she continued to develop her relationship to the lands and waters and the tangible aspects that she loved of the environmental field. This love, coupled with her educational experiences, brought her to the field of ecology.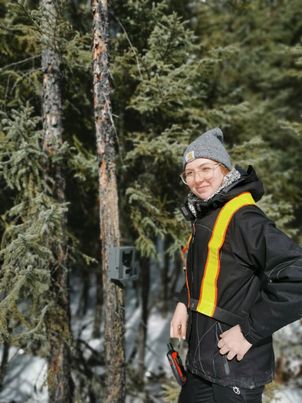 Every day I have a list of things to do, small daily tasks that ultimately contribute to a larger goal. Working in STEAM, particularly in the environmental side of things, recognizes these small persistent efforts that really amount to something much larger– like changes in policy or supporting the interests of your clients.
As a Junior Ecologist on the SVS team, Jasmine works on environmental projects serving our clients, including environmental and species monitoring. Her passion and drive helped her forge her path to this career through varied educational and volunteer experiences.
Caribou Adventures
After college, Jasmine took on a role as an ecological technician in Saskatchewan. In that role, she worked for a harvesting company that did large-scale peatland restorations, travelling linear disturbances and collecting data to assess disturbance recovery and caribou habitat potential. Although she never actually got to have an encounter with a real live caribou, she could see their travel patterns and learned how they were being affected by the peat harvesting. This opportunity introduced her to what resource management can look like when considered in a circular fashion — a way of working that includes restoration.
The industry of resource management needs to recognize that the collective health of the lands, waters, and people are the most valuable to Canada's economy long term, rather than the market price of a singular resource.
As she continued her work in the environmental and resource management sectors, Jasmine noticed that Knowledge Holders and community members were increasingly being included in discussion. These people could speak to where caribou historically lived and travelled in their lands, integrating Traditional Knowledge into accounting for a species at risk in resource management. This experience fueled Jasmine's belief in working in a manner that contributes towards responsible environmental stewardship.
Connecting With Her Métis Heritage
In high school, Jasmine learned of her Métis heritage and began the journey of discovering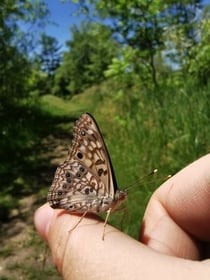 what that truly meant to her. She acknowledges that the experience of disconnection is a common aspect of being First
Nations, Métis, or Inuit in Canada. Jasmine, like so many others, is on a journey to re-connect and find meaning in that heritage.
After graduating high school, she connected with Indspire, an organization that invests in the educational needs of Indigenous Peoples, about her next steps. They were a great support to her and really invested in her success as a Métis citizen by providing bursaries to pursue higher education. Jasmine took an environmental technician program and completed a certificate in ecosystem restoration, both at Niagara College.
Turning Passion into a Career
Jasmine is an advocate for accessible education and career opportunities for everyone. She credits her ability to pursue a career in a field she loves to a combination of factors including the support of her family and access to programs and organizations like Indspire. Jasmine's hope is that Indigenous Peoples, and women in particular, will be inspired to pursue careers in the environmental field. It is through the good work and leadership of inspiring women like Jasmine, who use their pathway to success to highlight inequalities and roadblocks for success in STEAM, that careers in environmental science will become more accessible and attainable for anyone with the drive and passion.
Being Métis influenced Jasmine's career choice because it made her value workplaces that respect that part of her identity. She has many goals to be more involved as a Métis citizen and to be able to feel like she is playing a part in that community. Her work with SVS is part of that. Jasmine has ties to many different parts of Canadian heritage — including Quebec — and she sees this is as a unifying rather than divisive force, something that only makes her stronger as a woman in STEAM. Her wise advice to young women who want to pursue a career in STEAM is to not hesitate to pursue their passion and not let their circumstances dictate their place in STEAM careers.
"I think it's important for women to remain informed about what the existing options are in terms of salaries, stability, and locations."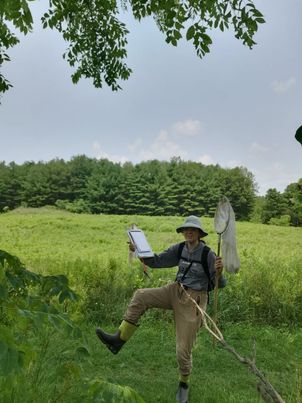 Curious about Indspire? SVS is committed to supporting Indigenous youth who are pursuing careers in STEAM through our scholarship program with Indspire, but also through the mentorship and inspiration of our staff members. As an organization, Indspire has a goal of "enriching Canada through Indigenous education and by inspiring achievement"
Like what you're reading? Our WCW campaign is named for the women it features. The women we profile are at the forefront of their fields, all while balancing home life and the challenges of 21st century politics, environment, and reconciliation. And they are – quite frankly – crushing it. See some of our prior #wcw posts here: Erin Knight, Cheyenna Campbell, Kaitlin Littlechild, Samantha Noganosh
Get more articles directly to you inbox in our biweekly news and funding digest:

We are an Canadian B Corp, and we assist Indigenous communities with support throughout regulatory processes surrounding major development projects like mines, hydroelectric facilities, transmission lines, highway expansions, oil and gas pipelines, natural resource transport applications and nuclear power.
We have deep context and experience behind the recommendations we provide, having worked for our clients on almost every major project in Canada over the last 10 years. For us, it's all about building long-term relationships with our clients. We want to get to know you and what you want to do so we can help you move your plans forward.
Impact Benefit Agreement Negotiation Support

Technical Reviews and Regulatory Process Support

Community and Economic Development Planning

Indigenous Knowledge and Land Use Studies

Environmental Monitoring

Guardians Program Development

Climate Change Readiness

GIS and Mapping
And so much more:

www.sharedvaluesolutions.com