"Where we've been and where we come from: it helps us to understand who we are."
From Piikani Nation's consultation office to the field, and even to the hockey rink, Megan Crow Shoe brings her love for her community, her family, and the land to all she does. Megan is an inspiration to us in the work she does for her Nation, and she is our #wcw for the month of March!
Being Blackfoot
Megan Crowshoe was born in Pincher Creek, a town 15 minutes west of Piikani First Nation. Piikani Nation is located in what is now called Southern Alberta, but their traditional territory is a vast area that crosses over into Saskatchewan and down into Montana.
Megan explains that the beauty of the land surrounding them is what makes being Blackfoot so special:
"Being Blackfoot is a part of who we are, it's home. Being so close to the mountains, the openness of the prairies." The connection to that land has been a consistent theme in Megan's life.
Even Megan's Blackfoot name "Naato-ohkotoka"which means "Holy Rock" in English, is rooted in the land. Her dad helped build the Old Man River Dam in 1990 in a process that Megan said, "happened way before consultation." While working on the project, her dad and his colleague found a rock that he knew wasn't just a rock – it had been used as a tool by ancestors of the territory. They could still see where the sinew was wrapped around the rock to create a tool. Megan's father brought it to her great-grandfather Joe Crowshoe who in turn blessed it and gave it to Megan along with the gift of her Blackfoot name.
The lack of consultation on the Oldman River Dam project created controversy in the Piikani Nation and through that grew a desire to protect the land even more fiercely. Megan's current role as a consultation officer is part of the Nation's mission to protect the historic, ongoing, and future Rights and Interests of Piikani Nation.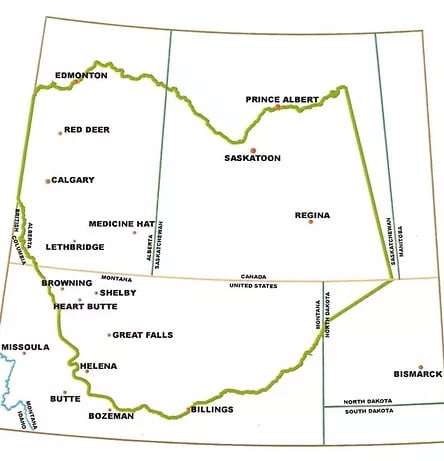 Blackfoot Traditional Territory Map, image taken from piikanination.wixsite.com/about-us
Protecting the Future, Begins with the Past
When Megan graduated high school, she took a year off, unsure of what path she truly wanted to pursue. The summer before she entered her college program, she took a position as a field technician. In that role, she spent time on the land collecting information about Piikani Nation's land use and knowledge. Megan, who is now a full-time consultation officer with the Nation, has been collecting Traditional Knowledge ever since.
To many of us, consultation is a murky word at best. But for Megan and her team, working in consultation is part of a larger mission: collecting and preserving the stories, knowledge, and history of Piikani for generations to come. It also provides a platform for the individual voices, stories, and issues within the Nation to be collected, preserved, and heard. As a consultation officer, Megan gathers Traditional Knowledge and land use data. This data, which includes everything from oral history to mapped, spatial records of fragile spawning grounds, helps her bring awareness to the Piikani territory, where they come from and who they are as a community.
Above all else, Megan says that being out on the land with the Elders is what makes her excited about getting up in the morning and going to work. By listening to their stories and having conversations with them, she can help her team combine two worlds of knowledge– Piikani and Western—while maintaining and protecting Piikani identity, land, and resources.
"Development needs to happen, but future generations need to have the opportunity to practice their culture and their traditional ways," she explained.
"As the Elders say: 'if we don't have that, then who are we?'"
Through her work in the field, Megan began to see the territory from a different perspective. Stories and oral history are the main way Piikani pass on knowledge of Blackfoot history and ways of knowing, seeing, and being on the land. In her role, Megan is able to combine that oral history with the hands-on information she gleans from her field work. This helps to develop a whole picture of the use of the land which in turn serves the people of Piikani in their efforts.
Covid Challenges and Changes
Like with many of us, Covid has changed the way Megan and her team have conducted TK work, but not halted it completely.
"Our culture likes to come together, so [Covid] has been tough."
So much of Megan's work previously took place with Elders over a cup of tea, or during a visit to the mountain corridors that surround Piikani territory, so Covid presented a real challenge. But it also presented an opportunity to find new ways of listening to and capturing stories.
Over the last two years, Megan has been helping Elders in her community to use technology, such as videoconferencing software for TK interviews. This pivot was essential because, in Megan's world, "industry didn't stop during Covid," and stopping her work would have meant missing out on essential opportunities for Piikani to have a seat at the table within ongoing development projects.
Looking Forward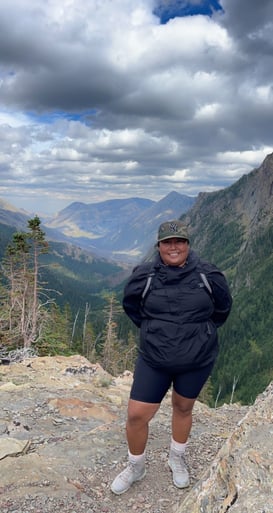 Megan's connection to her community and the land does not stop at the Piikani Consultation Office's doors. She has been an active and avid athlete since she was ten years old, when she joined her first all-girls hockey team.
"There are more opportunities for girls in sports now than when I was younger- you had to be really high level to pursue sports and often had to leave their community to pursue opportunities." As Piikani has changed and grown, so have these types of opportunities.
Currently, Megan and her teammates travel all over North America to attend hockey tournaments. In addition to hockey, Megan plays competitive softball and enjoys playing with her family team.
Looking to the future, Megan said she wants to continue to build upon the Nation's geographic information system database, which houses the data from all the TK interviews she and her team have conducted over the last three years.
"It has photos, stories. It could be a resource and a teaching tool."
Megan hopes to turn this database into a collaborative and interactive tool, through which she can involve the elders, youth, and others more deeply in the consultation process for Piikani Nation.
Like what you're reading? Our WCW campaign is named for the women it features. The women we profile are at the forefront of their fields, all while balancing home life and the challenges of 21st century politics, environment, and reconciliation. And they are – quite frankly – crushing it. See some of our prior #wcw posts here: Erin Knight, Cheyenna Campbell, Kaitlin Littlechild, Samantha Noganosh
Get more articles directly to you inbox in our biweekly news and funding digest:

We are an Canadian B Corp, and we assist Indigenous communities with support throughout regulatory processes surrounding major development projects like mines, hydroelectric facilities, transmission lines, highway expansions, oil and gas pipelines, natural resource transport applications and nuclear power.
We have deep context and experience behind the recommendations we provide, having worked for our clients on almost every major project in Canada over the last 10 years. For us, it's all about building long-term relationships with our clients. We want to get to know you and what you want to do so we can help you move your plans forward.
Impact Benefit Agreement Negotiation Support

Technical Reviews and Regulatory Process Support

Community and Economic Development Planning

Indigenous Knowledge and Land Use Studies

Environmental Monitoring

Guardians Program Development

Climate Change Readiness

GIS and Mapping
And so much more:

www.sharedvaluesolutions.com