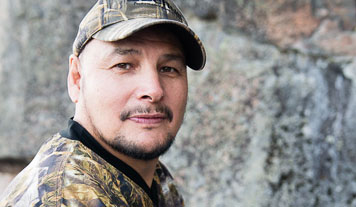 Darrell Settee, champion of Pimicikamak Cree Nation and all around great guy.
Having a dedicated community planner for your planning process is your secret ingr edient for success. Sometimes called a community champion, the right person for this role does not necessarily have specific qualifications or background in planning. What's more important is that they are passionate about your nation and its future, are connected to the community – the land and the members, are enthusiastic about the project, and are organized and willing to learn. The right community planner will get the job done!
Ideally, a community planner is a permanent, paid position. Super important is that you empower this person (or team if your nation has many planning processes on the go) to develop your plan based on what's important to your community and how you want to grow and manage community change. If it's going to be useful and effective, your land use plan must represent your community's vision, values, and goals while also recognizing and reflecting on your unique history, culture, and traditions. The right person will deeply understand this cultural significance.
From the initial planning phase, through to implementing the plan, monitoring its success, and adapting it over time, your community planner plays a critical role throughout the process - even after the community has adopted the plan. They will make sure great community engagement happens, and will help adapt the plan to changes based on the evolving needs and opportunities in your community.
Now, the big question: How do you identify the right person to champion your community's planning process? Here is a high-level job description that scopes out typical roles, responsibilities, and skills for a community planner you can pull from as you create a job tailored to your decision-making and hiring process. With any luck, the right person will emerge from your talent search and take on this central role in your planning process with flying colours.
Sample Job Description: Community Planner
Example description
A Community Planner is a motivated and hardworking person who believes in long-term planning and has a strong knowledge and understanding of the community, including the lands and waters.

They are approachable, trusted, and respected within the community and can work with a variety of community members.

A Community Planner needs to be a good communicator who can engage and connect with the community to support the development of a vision, values, and policies for the planning process.

A Community Planner can help manage and guide change while solving problems and supporting the community's decision-making process.
Roles and Responsibilities
The roles and responsibilities of a Community Planner will vary based on your specific planning project. Here are some examples.
Play a leadership role in engaging the community to develop the overall planning process

Act as a liaison and communicate between the planning team and decision-makers (council, staff, lands committee, for example)

Be the main point of contact for community members to share information, ask questions, and provide input into the planning process

Communicate with external advisors who may play a role in your plan's creation

Organize and facilitate community engagement with youth, elders, land users, and any other important groups in the community

Gather, compile, and organize input from the community

Prepare updates on planning matters and communicate with the community

Help write the land use plan, including policies, based on community feedback

Create or organize mapping to support the land use plan policies

Implement the land use plan by developing decision-making frameworks, planning processes, and training opportunities

Monitor and measure the effectiveness of the land use plan and planning process

Additional duties as required
Skills and Qualifications
A Community Planner's skills and qualifications should be tailored to the roles and responsibilities you choose.
A community planner needs to have some of the following attributes:
Passion for your nation

Interest in planning for the future of your community

Strong knowledge and understanding of your community, lands, and waters

Leadership skills

Ability to build relationships and work well with others

Organizational and time management skills

Written and oral communication skills

Ability to listen effectively

Good problem-solving skills

Ability to address conflicts, clarify differences, and build on common interests

Ability to use or learn to use computers and various applications (e.g., Microsoft Excel/Word, ArcGIS and email)

Ability to speak or understand your Indigenous language is an asset but not a requirement

Relevant planning education and/or experience is considered an asset but not a requirement
Indigenous Planning Blog Series
This is the ninth post in a series that explores ways Indigenous communities have used the planning process to create an exciting vision for their future and a realistic roadmap to get there – and some resources and ideas for you to do the same. We hope you join us for the rest of the ride. And please get in touch if there's a topic you'd like us to explore.
Read more posts in this series:
Looking for help with community engagement? Or other planning help?
If you are trying to figure out how to get started, do give us a shout. We'd be happy to discuss your options and help you weigh the pros and cons of your planning options. We're a team of self-proclaimed planning geeks who love to talk about this stuff, so don't hesitate to get in touch.
Looking for a quick overview of some planning options you might be considering?
Like what you're reading? Get future posts delivered right to your inbox:
We are a Canadian B Corp, and we assist Indigenous communities with support throughout regulatory processes surrounding major development projects like mines, hydroelectric facilities, transmission lines, highway expansions, oil and gas pipelines, natural resource transport applications and nuclear power.
We have deep context and experience behind the recommendations we provide, having worked for our clients on almost every major project in Canada over the last 10 years. For us, it's all about building long-term relationships with our clients. We want to get to know you and what you want to do so we can help you move your plans forward.