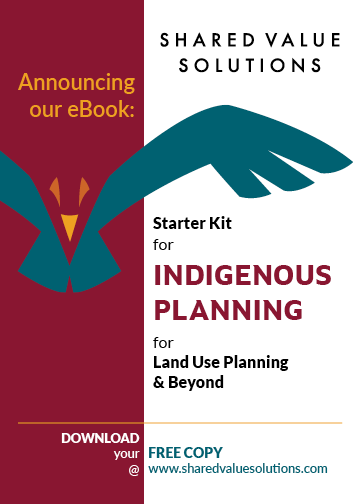 We all know the value of a good plan in charting a course to the future we want to see. But for many Indigenous nations, the planning process often seems long, time consuming and ultimately ineffective: how many expensive plans end up forgotten on a shelf?
What if planning doesn't have to be that way?
What if planning is fun?
What if planning can bring a community together? Revitalize culture and spirit? Re-ignite pride and reclaim roles of environmental stewardship, jurisdiction and sovereignty, and accelerate economic development? What if planning is fun? From our work with First Nations, Métis and Inuit governments across Canada, we know that it absolutely can be a fun and rewarding experience for your whole community.
Over the past months, we've been exploring many facets of the planning process in our blog series (see below), and have gathered the most popular content into one nifty downloadable reference eBook.
Whether you are a Land Code community, thinking about becoming a Land Code community or just looking to develop a vision for how you want your community to grow and change while protecting what matters, we hope that the information in this eBook will help make sure your planning processes meet the unique needs of your community. As always, please let us know what you think of this content and what you'd like us to explore next. Enjoy!
Indigenous Planning Blog Series
This blog post is part of a series that explores ways Indigenous communities have used the planning process to create an exciting vision for their future and a realistic roadmap to get there – and some resources and ideas for you to do the same. We hope you join us for the rest of the ride. And please get in touch if there's a topic you'd like us to explore.
Read more posts in this series:
Looking for help with community engagement? Or other planning help?
If you are trying to figure out how to get started, do give us a shout. We'd be happy to discuss your options and help you weigh the pros and cons of your planning options. We're a team of self-proclaimed planning geeks who love to talk about this stuff, so don't hesitate to get in touch.
Looking for a quick overview of some planning options you might be considering?
Like what you're reading? Get future posts delivered right to your inbox:
We are a Canadian B Corp, and we assist Indigenous communities with support throughout regulatory processes surrounding major development projects like mines, hydroelectric facilities, transmission lines, highway expansions, oil and gas pipelines, natural resource transport applications and nuclear power.
We have deep context and experience behind the recommendations we provide, having worked for our clients on almost every major project in Canada over the last 10 years. For us, it's all about building long-term relationships with our clients. We want to get to know you and what you want to do so we can help you move your plans forward.