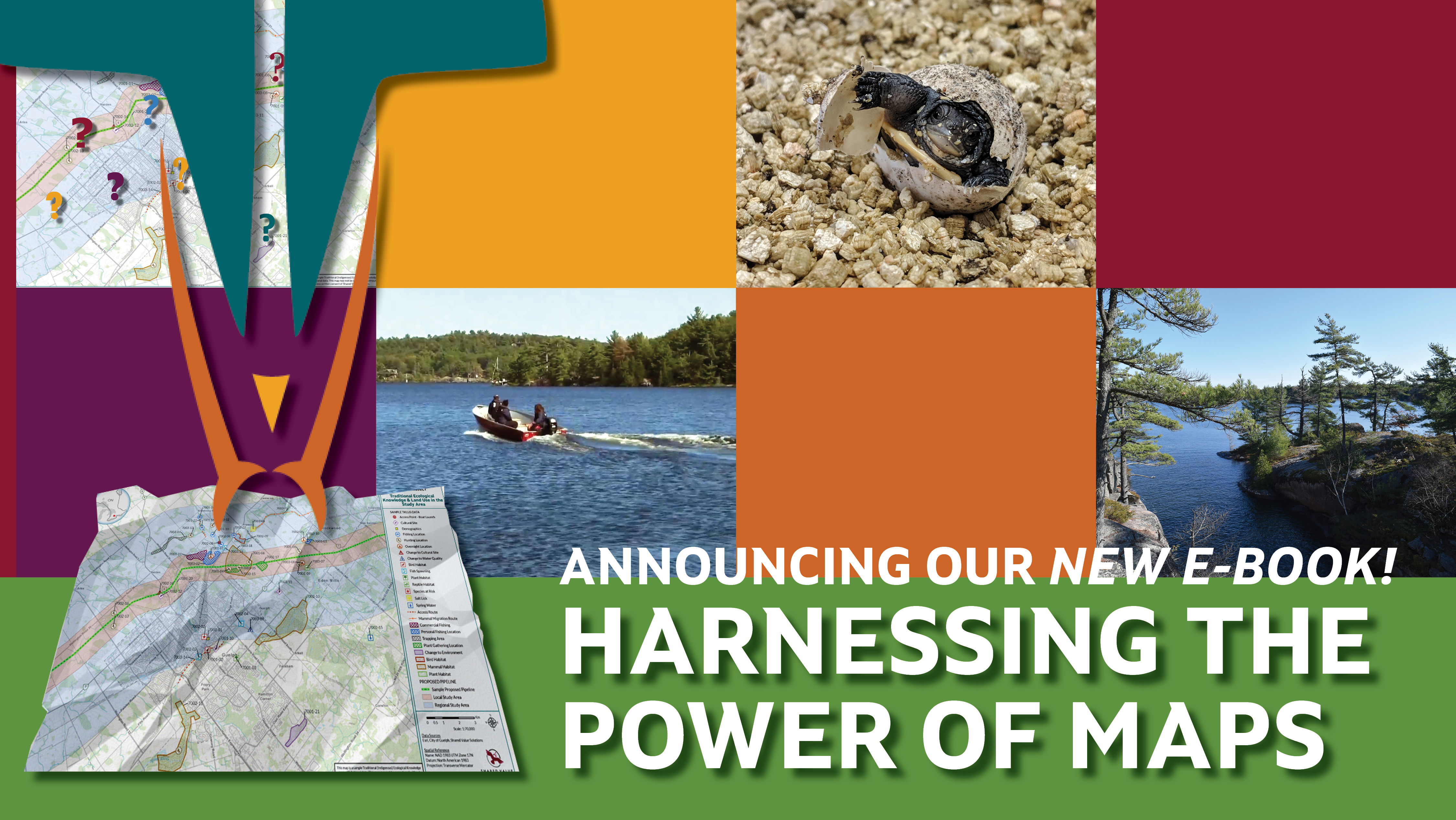 Happy New Year, everyone!
We're pleased to be starting 2022 off with the launch of our latest eBook: Harnessing the Power of Maps: A GIS Intro Guide and Ideas Bundle for Indigenous Nations
Do you work in the lands or consultation department? Are you part of your Indigenous Nation's planning or Indigenous Knowledge research, or are you part of the leadership team? Are you ready to be inspired by how Nations are leveraging mapping and GIS in innovative ways to protect their rights and interests? This eBook combines some nitty-gritty GIS basics and resource links with examples of these tools in action. Download it for free!
Having control over your maps of your territory and access to GIS tools allows you to do many things:
Assert jurisdiction

Further stewardship and cultural revitalization efforts

Leverage influence in regulatory processes and Impact Benefit Agreement (IBA) negotiations

Prepare for climate change

Plan for the future with confidence
Success Stories and Helpful Resources
The stories in this eBook explore everything from custom collector apps for land users to support land management decisions, to Indigenous Knowledge mapping, story maps, cumulative effects mapping, and more. Each chapter is a celebration of the extraordinary Nations and visionary leaders we have had the privilege of working with on these projects from coast, to coast, to coast - with resources and ideas for you to use on your own journeys.
What's in this eBook?
We have bundled this collection of our most popular posts from the blog series, GIS in Action, into the newest volume in our popular eBook collection.
Articles in this eBook:
A Little Training Goes a Long Way
A key theme that has emerged is how leveraging GIS technology and tools has made life easier for lands departments on so many levels. A little training goes a long way in freeing up staff time and resources to focus on what matters most. A long winter of data entry can be replaced by instantaneous uploads from the field to a custom dashboard anyone in your organization can read and make sense of. The biggest secret of all is that once you learn the basics, the world of GIS is not as hard as it seems!
GIS and Mapping Services at SVS
Our goal is to make it easy for your lands department to have control over your maps of your territory. Our services are scalable to your needs. We can come alongside your team and support as you build in-house capacity, chose to outsource your mapping needs, or something in between. We leverage Esri ArcGIS tools to allow for accurate, real-time data collection, analysis, and more:
- Field data collection made easy
- ArcGIS StoryMaps
- Real-time data visualization

-Training programs

- And of course, any map you could ever need!
We hope the stories you read here paint a clear picture of the power of GIS and mapping to help protect what matters – and spark ideas for your own projects.
If you don't see your questions answered here, please reach out! Our GIS experts are always happy to talk through any scenario you might have and suggest some possible solutions. They have more answers than would fit in many, many blogs, so do please get in touch!

Happy reading, and stay safe and healthy, everyone!
About Us: Shared Value Solutions
We are an Canadian B Corp, and we assist Indigenous communities with support throughout regulatory processes surrounding major development projects like mines, hydroelectric facilities, transmission lines, highway expansions, oil and gas pipelines, natural resource transport applications and nuclear power.
We have deep context and experience behind the recommendations we provide, having worked for our clients on almost every major project in Canada over the last 10 years. For us, it's all about building long-term relationships with our clients. We want to get to know you and what you want to do so we can help you move your plans forward.
Impact Benefit Agreement Negotiation Support

Technical Reviews and Regulatory Process Support

Community and Economic Development Planning

Indigenous Knowledge and Land Use Studies

Environmental Monitoring

Guardians Program Development

Climate Change Readiness

GIS and Mapping