"I have two sets of moccasins. My First Nations moccasins I use when I'm working with industry, to teach them about protocols, traditions, how to approach Chief and Council. With my corporate moccasins, I go into the First Nations communities and explain community engagement, what the JV (Joint Venture) is, what they can possibly do and negotiate."
A proud member of the Siksika Nation (part of the Blackfoot Confederacy), Bren Little Light has worked tirelessly for years to fight for Indigenous Peoples' Rights and interests. She has been involved in the homeless crisis, the opioid crisis, the gas and oil industry, and now in the search for unmarked graves at former residential school sites. As her Cree name, Sundance Woman, suggests, she is a beacon of light and positivity and brings so much inspiration to those around her. Bren is our #wcw for the month of May!
A Healing Journey
Bren Little Light is on a healing journey. Among many things, she is a Sixties Scoop Survivor who was taken from her family at the age of two and later adopted into a non-Indigenous family. This experience denied her the chance to develop a connection to her culture and language in her formative years.
When she was growing up, Bren says that "Racism was underneath the table; people hid it well."
As a result, Bren was unable to access her voice as an Indigenous person. She faced many obstacles, including being told by her fourth-grade teacher that she would never amount to anything because she was "Indian."
Things have certainly changed since then. Initiatives like the Truth and Reconciliation Commission have brought systemic racism in Canada to light. But with the truth now exposed, Bren says she is seeing — in the light of day — just how prevalent racism still is. She tells the youth today to use their voice even though they will feel a lot of pushback for trying. Her advice to them almost sounds as if she is prepping them for battle:
"Get your armor on, get an education, learn your language and culture"
After all the hurdles she faced growing up, she returned to Siksika Nation as a young adult to reunite with her community and learn about her culture. She draws strength from that community — the Elders, the youth, and the land — to aid her in her healing. Her early traumas fueled her passion to fight against the injustices that Indigenous Peoples face and gave her a unique superpower: the ability to connect unlikely partners and to foster solutions.
The Start of Something Great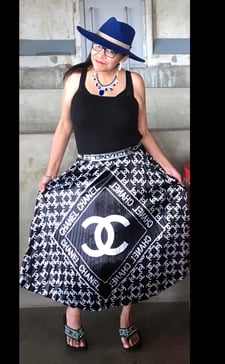 After high school, Bren became a paralegal. She says she was inspired to make change by seeing the injustice of the over representation of Indigenous Peoples in the criminal justice system. Bren held several different positions as a paralegal but, eventually, working in family law took a toll on her and she started looking for something different. She applied for a position as a researcher with the giant engineering, logistics, and energy company ATCO in Alberta. The competition was fierce, but Bren landed the role.
One of her first successes with ATCO was when she was asked to take notes in a meeting with several First Nations representatives regarding an $85 billion potash mine project. She knew that people are at the heart of any business transaction. After they failed to win the contract in that first meeting, Bren suggested to her boss to build the relationship with the client first before starting to talk about revenue. After the next meeting, they landed the contract using Bren's advice. Within six months, she was promoted to Aboriginal Relations Coordinator.
Spotlighting the Housing Crisis
Over the years, Bren has fought against many of the injustices First Nations face, including lack of suitable housing. When she worked for the Calgary Homeless Foundation, she saw how Indigenous Peoples were overrepresented in the system yet received only a small portion of the funding that the Foundation received from the provincial and federal governments. Shaken by these numbers, she pushed the Alberta government to provide funding for Nations to start conducting research and gathering statistics to show how much of their population was experiencing homelessness. Bren trained Kainai Nation (Blood Tribe) to conduct that research and with that information, they will be able to apply for funding to start building homes.
Improving access to housing will not only help keep people off the streets, but it will bring the youth back to work in the communities. Bren says that young people leave to get an education but then can't return to work within their community because there's no housing to support them.
Two Set of Moccasins
Her extensive experience working with industry and First Nations led Bren to her current role as CEO and president for Little Light Consulting. She uses this analogy to explain the work that she does:
"I have two sets of moccasins. My First Nations moccasins I use when I'm working with industry, to teach them about protocols, traditions, how to approach Chief and Council. With my corporate moccasins, I go into the First Nations communities and explain community engagement, what the JV (Joint Venture) is, what they can possibly do and negotiate…"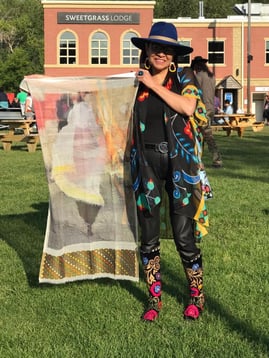 The thing Bren is most proud of in her life is that she is able to help other survivors of the same racism she endured. Currently, Little Light Consulting is assisting Alberta First Nations to submit applications for the Residential Schools Community Funding Grant. Bren starts each conversation by approaching the leadership, Elders, and Survivors in the community. Her idea is to create a healing plan with these communities using the funding provided by the government. The plan will take direction from the community as to what is meaningful for them — from setting up teepees or traplines, coming up with their First Nation's name, or holding traditional ceremonies. Bren feels that this healing plan will help strengthen communities to deal with the results of recovering unmarked graves at the sites of former residential schools —work she is currently in
volved in.
Visions for the Future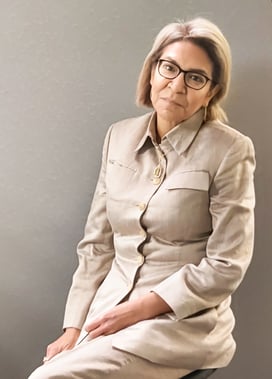 Although she still sees so many obstacles, she feels extremely hopeful about the future of First Nations, especially with respect to economic development. She is helping Siksika Nation with many partnerships, for example, in the reclamation of abandoned wells and on a solar project. The result of these partnerships is increased employment opportunities and prosperity for First Nations members.
Bren's unique gift is understanding the needs of a community and then making things happen. She hopes that one day she will follow in the footsteps of her mentors and enter the field of politics. When we asked what her campaign slogan would be, she came up with this very simple but effective message:
"Vote Bren. I seek solutions."
Like what you're reading? Our WCW campaign is named for the women it features. The women we profile are at the forefront of their fields, all while balancing home life and the challenges of 21st century politics, environment, and reconciliation. And they are – quite frankly – crushing it. See some of our prior #wcw posts here: Erin Knight, Cheyenna Campbell, Kaitlin Littlechild, Samantha Noganosh, Jasmine Labelle, Megan Crow Shoe, Juanita Starr
Get more articles directly to you inbox in our biweekly news and funding digest:

We are an Canadian B Corp, and we assist Indigenous communities with support throughout regulatory processes surrounding major development projects like mines, hydroelectric facilities, transmission lines, highway expansions, oil and gas pipelines, natural resource transport applications and nuclear power.
We have deep context and experience behind the recommendations we provide, having worked for our clients on almost every major project in Canada over the last 10 years. For us, it's all about building long-term relationships with our clients. We want to get to know you and what you want to do so we can help you move your plans forward.
Impact Benefit Agreement Negotiation Support

Technical Reviews and Regulatory Process Support

Community and Economic Development Planning

Indigenous Knowledge and Land Use Studies

Environmental Monitoring

Guardians Program Development

Climate Change Readiness

GIS and Mapping
And so much more:

www.sharedvaluesolutions.com