"I've always known the importance of being involved, being active in the community. It stems back from when I was a young girl. Thankfully there were people in our community that included me in youth leadership programs".
Gina Wesley will tell you that her role as Lac Seul First Nation's Director of Economic Development and Commercial Operations- fell into her lap. But, listen more closely to this mother of three, and you'll find that her hard work, communication skills, education — and a big helping of inspiration — got her there. This proud member of Lac Seul First Nation moved from one side of the negotiating table, representing a major mining corporation, to the other side, where she now advocates for her community. Her inspiration? Her father and her Nation. Gina is our #wcw for July and this is her story.
Both Sides of the Table
In 2018, Gina was working as a communications coordinator for a mining company. Although she enjoyed her job, an internal struggle was playing out. "I've always known that lands and resources, and animals and plants, and everything that's tied to the land and water was always important to me," Gina says.
"I use the land, and I never, ever want to see my hunting grounds or fishing spots disrupted or contaminated by any sort of development activity."
So, Gina made sure that the communities she worked with in representing the mining company could make informed decisions by "being at that table and having that internal struggle but also making sure that communities were aware of what was going on."
It was in the midst of one such conversation on behalf of the mining company that Gina captured the attention of Lac Seul: Gina had built a great relationship with the community while representing the mine. Following the success of those conversations and relationships, she ended up returning to work for her home community of Lac Seul as a Land Management Coordinator. This began her career journey, but the roots of that journey come from Gina's childhood.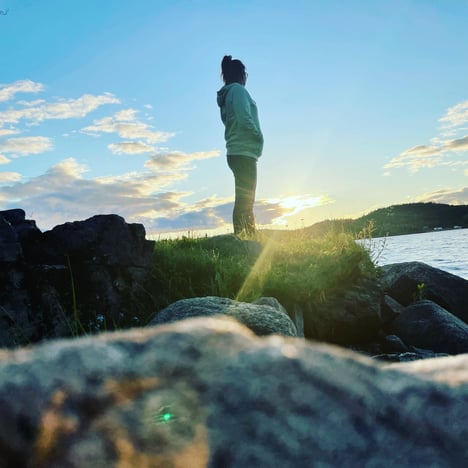 Fuel for a Dream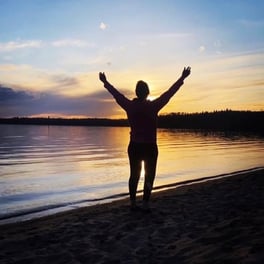 As a girl, Gina dreamed of being a lawyer. She grew up in a family suffering from the impacts of residential school. Both of her parents are survivors of that system and their trauma drove Gina's desire to fight against that mistreatment and against the systemic racism they still face today. Gina's dream was fueled by her father, who, during treasured moments out on the land together, spoke to her of the importance of education. His message was reinforced by her community and people she met through youth leadership programs she was involved in, people making a direct impact in their community — at the time, on Gina herself.
Children, Challenges, and College
The early connection that Gina made to the land is matched by her deep and loyal connection to her community, especially to people who are struggling. She understands them at a personal level: Gina has also been through low times in her life. In 2011, Gina explains, she hit rock bottom. She lost everything, including her marriage and her children, and spiraled downward for about a year.
After a year of struggle, she made the difficult decision to go back to school. It meant she would miss out on many milestones in her children's lives. But, she says, her kids understood why it needed to happen: it was the only way for Gina to move forward, make a life for herself as a single parent, and achieve her dream of fighting for her people. The challenge fueled her dream:
"I'm always trying to prepare and trying to strategize. How to build up capacity in our First Nation and get away from the welfare system. Being in the system and struggling- I don't want our people to struggle like that."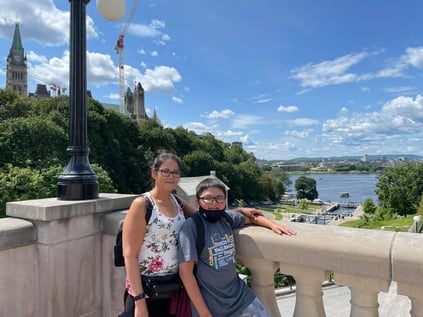 Gina began by pursuing a certificate in Aboriginal Financial and Economic Planning at Confederation College, After finishing college, Gina went on to study political science at Lakehead University, planning to eventually go to law school. While at Lakehead, Gina maintained a home in Lac Seul, where she spent her weekends, so that she could continue being a part of her kids' lives. She made the long commute, back and forth to Thunder Bay, while she completed her studies.
Gina says she was one of 3 Indigenous students in the pre law program and they were often asking for her opinion and perspective on issues. One of the voices that stood out in particular for Gina was that of Professor Zahir Kolia who encouraged her to be heard as an Indigenous person by getting involved at the community level.
New Pathways for Youth
While still in school, Gina took on the role of Community Activator at Lac Seul during summer 2017. She planned activities like hide tanning sessions, baseball, healthy living programs, floor hockey, broomball, and fish derbies, all with the intent of getting the community active.
"We need to get our kids to open their eyes and see the world."
She could see the direct impact the programs had on people in her community. People had fun, supported each other, and pursued new interests. She thinks it's especially important for young people to be involved, as a way to avoid falling into drugs and alcohol or even just spending too much of their time playing video games.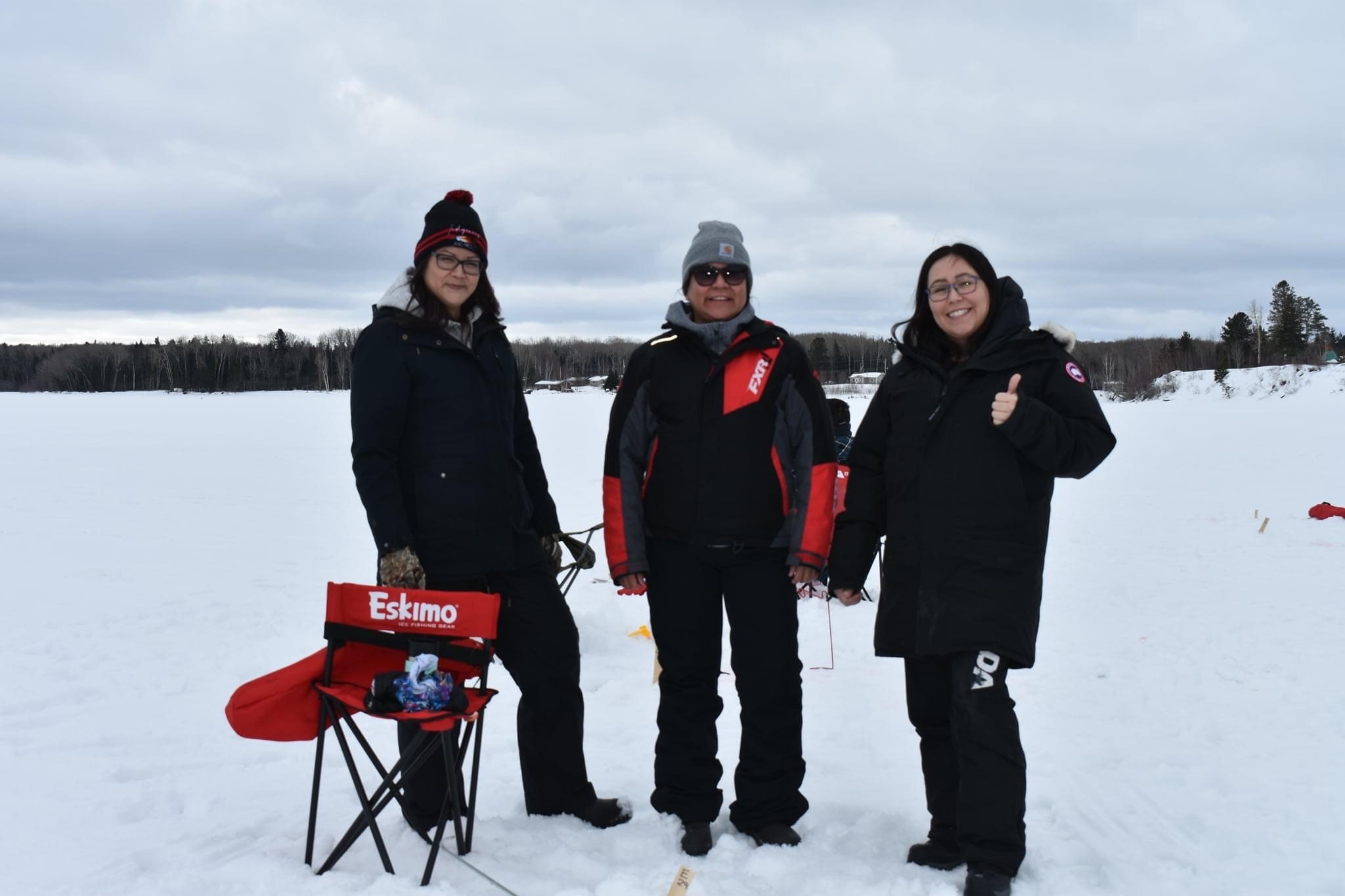 Her connection to the youth of her community started earlier in her life, when Gina served as Lac Seul's youth chief. In this role, she participated in council meetings, negotiations and signing ceremonies, bringing the youth perspective to the table.
Today, Gina continues her dedication to youth by finding new ways to involve and encourage them. One of those ways is through the newly established Youth Entrepreneurship Program at the Lac Seul Training Centre of Excellence, which Gina and a friend worked to get funding for. The program introduces young people to entrepreneurship by focusing on design, manufacturing, and implementation. Kids in Grade 9 and higher learn how to design, make, and sell t-shirts and textiles. They also learn what it takes to start a business. Gina says programs like this "make kids see that there's possibilities out there, there's opportunities."
Advocating for Access to Education
Gina and her family experienced racism firsthand when her eldest son started attending high school and was automatically put in the basic classes. The school automatically made that choice for him because he was coming from the elementary school on the reserve and they didn't believe he could handle the academic stream. Gina fought for her child, knowing he was capable, and asked that he be switched into the advanced courses. He rose to the challenge and is now a student in a business finance program in Toronto. Gina is proud of the accomplishments of her three boys and continues to watch them grow and learn.
Access to the education that her father wanted for her (Gina graduated from Lakehead with a BA in Political Science) has provided a powerful skillset that Gina puts to work on the issues she is passionate about – not only youth, but also protecting the land. She feels that her impact on the community comes from her ability to be part of the conversation when it comes to industry. She makes sure that her community has strategies and opportunities. One example is Lac Seul's economic development strategy and the funding that it just received.
It all goes back to her early days out on the land and to protecting what matters most.
"To this day, my Dad talks to his grandchildren- about why education is important, and learning your culture, identity, and language. He's big on our tradition, our cultural ways and our Rights. That's who inspires me."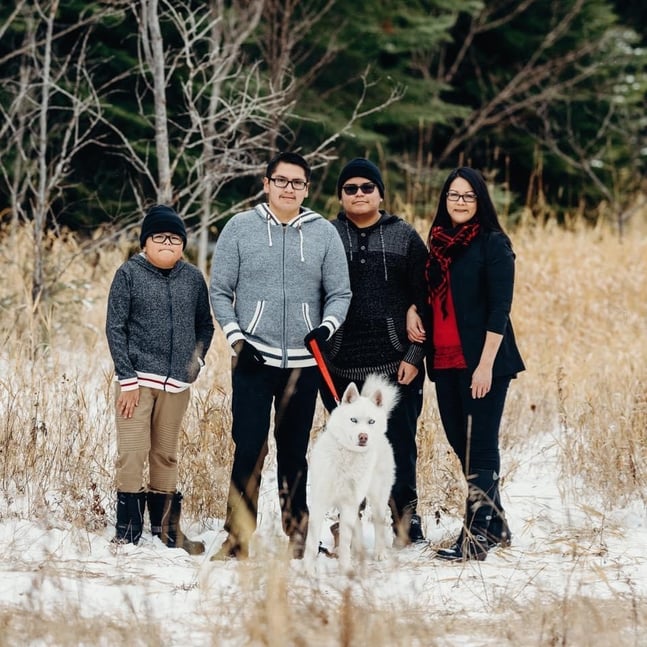 Like what you're reading? Our WCW campaign is named for the women it features. The women we profile are at the forefront of their fields, all while balancing home life and the challenges of 21st century politics, environment, and reconciliation. And they are – quite frankly – crushing it. See some of our prior #wcw posts here: Erin Knight, Cheyenna Campbell, Kaitlin Littlechild, Samantha Noganosh, Jasmine Labelle, Megan Crow Shoe, Juanita Starr
Get more articles directly to you inbox in our biweekly news and funding digest:

We are an Canadian B Corp, and we assist Indigenous communities with support throughout regulatory processes surrounding major development projects like mines, hydroelectric facilities, transmission lines, highway expansions, oil and gas pipelines, natural resource transport applications and nuclear power.
We have deep context and experience behind the recommendations we provide, having worked for our clients on almost every major project in Canada over the last 10 years. For us, it's all about building long-term relationships with our clients. We want to get to know you and what you want to do so we can help you move your plans forward.
Impact Benefit Agreement Negotiation Support

Technical Reviews and Regulatory Process Support

Community and Economic Development Planning

Indigenous Knowledge and Land Use Studies

Environmental Monitoring

Guardians Program Development

Climate Change Readiness

GIS and Mapping
And so much more:

www.sharedvaluesolutions.com