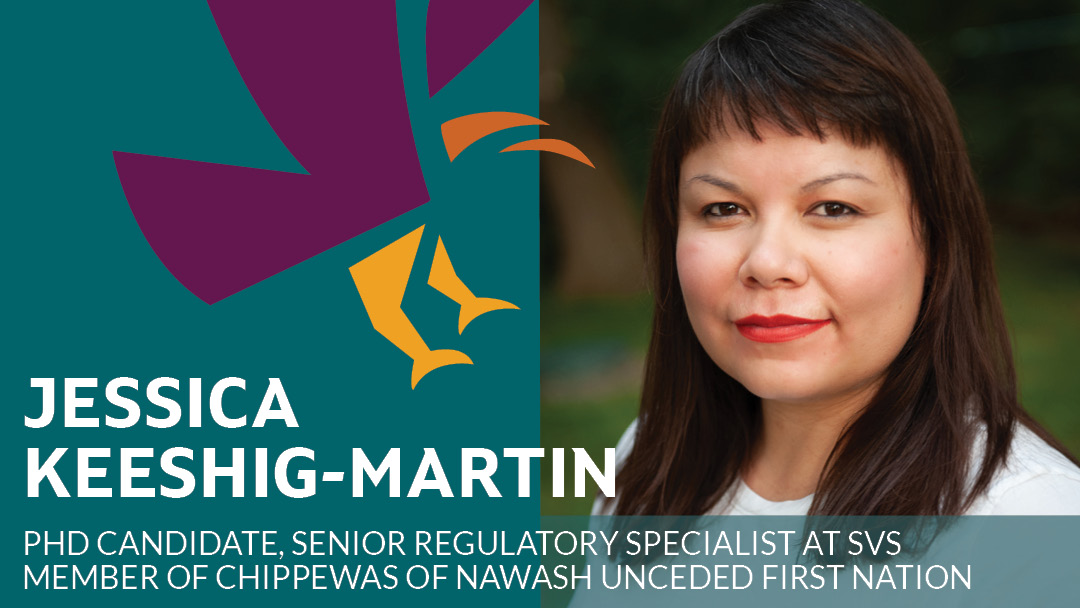 Having a conversation with Jessica Keeshig-Martin is a grounding experience. Her calm, thoughtful way of speaking shows a wisdom beyond her years. This is no doubt due to the profound life-changing experiences she has had which have guided her vision for herself and her community. Jessica is currently pursuing her PhD in Anishnaabe philosophies, working as a Senior Regulatory Specialist at SVS, and raising a son, all while living true to her beliefs by standing up for the Rights and Interests of her community. Jessica Keeshig-Martin is our inspirational #womencrushwednesdays for the month of December and we are delighted to share her story with you!
Seeking Truth through Education
Jessica honourably carries the name Biidaabinokwe, which means 'Morning Woman'. She is Wolf Clan and a member of the Chippewas of Nawash Unceded First Nation. She grew up surrounded by politically and culturally involved family members—her grandparents both worked for the office of Indian Affairs, her Dad worked for the Government of Canada, her mom worked for Indigenous Political Advocacy Organizations, and her granny was a Midewiwin (spiritual leader).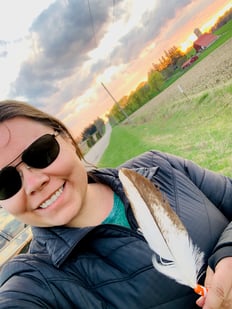 Jessica's youth was spent at her family home in Toronto, Ottawa and on reserve with her grandparents. She describes her teenage years and early twenties as a mixture of rough patches, feeling lost, and trying to find her way. She wonders whether this could be a result of intergenerational trauma and the residential schools her grandparents were forced to attend:
"I feel like those experiences really shaped the lives of my parents and myself."
She walks in her family's footsteps with the work and education she has chosen to pursue. Her family's involvement in politics provided her with a foundation to draw on, but it was when she started learning about Indigenous history while pursuing her BA at the University of Toronto, that she experienced, in her words, "a revolutionary time" in her life. Hearing the history of her people and taught by Indigenous professors set the course for her future: "They were talking about the injustices in such a powerful way."
Because of her studies, she also learned about grief and loss:
"You know, I also went through a period of grieving, because you learn about the loss of language and the loss of freely conducting and participating in Indigenous ceremony and dancing and celebration of culture and life and spirituality—the condemnation of our spirituality. I'm still grieving at times."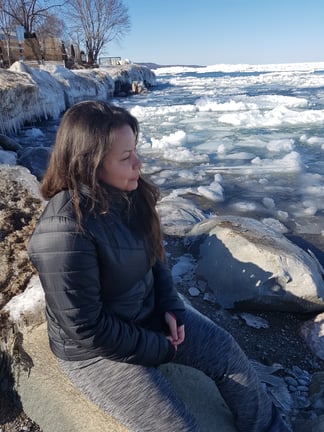 Those inspirational lessons, and the grief she felt, added fuel to an already-burning desire to address the injustices that had been done to her people. After graduating, Jessica worked for the Chiefs of Ontario in the Justice Department. She had the opportunity to work on urgent issues, like the implementation of the Ipperwash Inquiry Recommendations specifically the protection of heritage and burial sites and items. She also worked on advocacy for the Government of Canada's National Inquiry into Missing and Murdered Indigenous Women and Girls and supported the First Nations Women's Caucus. She found inspiration hosting gatherings and hearing from women all over the province, "all of it is just such powerful work."
---
Walking for the Water
The next huge turning point in Jessica's life came through her experience working on behalf of her Nation as the Nuclear File Coordinator when Ontario Power Generation approached them about burying low- and intermediate-level waste in the deep geologic repository at the Bruce Power site in Saugeen Ojibway Nation territory. She worked closely with community members on the engagement process and, through that, developed and deepened her relationships with the Elders who were informing and guiding the process and providing teachings. An Elder from the committee, inspired by the walks of Anishinaabe Elder Josephine Mandamin, decided to plan a water walk around the circumference of the territory. Jessica became involved and so began the next chapter of her life.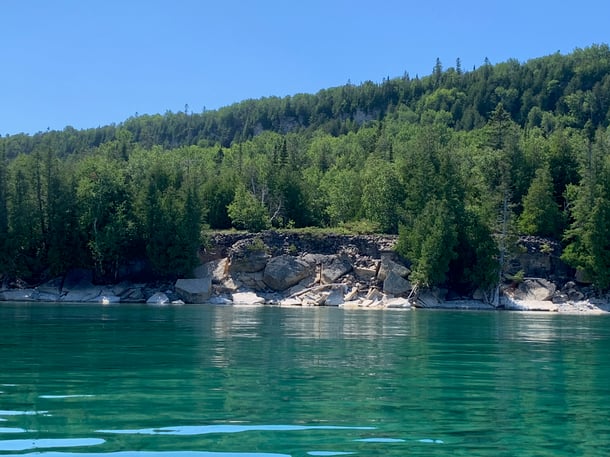 Jessica explained:
"The purpose of a water walk is to honour and pray for the water. Water is seen as a being with an entity and an agency who is communicating with us. The water walk is a ceremony to tell the water that we love her, and that we're listening… and to reflect upon the water as a life-giving source and to honour that."
Her lessons learned from the water walk are universal but imprinted even deeper because of the immersive experience of the walk: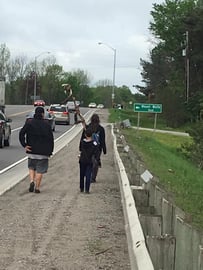 "To be with a group of people with the same goal in mind, to decolonize and Indigenize, unlearning and learning about who we are as a Nation and what it means to be in community and face challenges together and experience success and joy together."
Shaping the Future
The personal impact of her educational journey and experience with Indigenous issues led Jessica to go on to do graduate work in education. She is now a PhD student at York University; her doctoral research will explore Anishnaabe philosophies as part of the movement to revitalize our earth caretaking systems.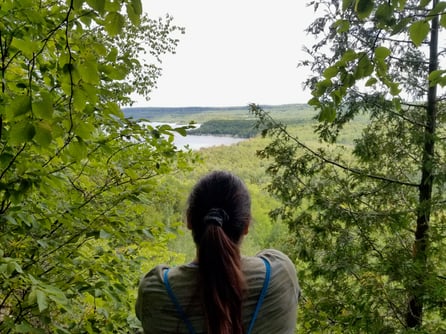 Jessica feels there are many more journeys to come in her life, all of them guided by her belief that we have so much to learn from the generations that came before us. She will continue using that knowledge to serve her community in achieving their goals of self-determination and to provide education which inspires growth and change.
"There is so much in people's histories, no matter where you're from. I don't think enough people look back into where their people started and think about those cultures and their ways and how that can inspire behaviour and action today."

---
Like what you're reading? Our WCW campaign is named for the women it features. The women we profile are at the forefront of their fields, all while balancing home life and the challenges of 21st century politics, environment, and reconciliation. And they are – quite frankly – crushing it. See some of our prior #wcw posts here: Erin Knight, Cheyenna Campbell, Kaitlin Littlechild, Samantha Noganosh, Jasmine Labelle, Megan Crow Shoe, Juanita Starr
Get more articles directly to you inbox in our biweekly news and funding digest:

We are an Canadian B Corp, and we assist Indigenous communities with support throughout regulatory processes surrounding major development projects like mines, hydroelectric facilities, transmission lines, highway expansions, oil and gas pipelines, natural resource transport applications and nuclear power.
We have deep context and experience behind the recommendations we provide, having worked for our clients on almost every major project in Canada over the last 10 years. For us, it's all about building long-term relationships with our clients. We want to get to know you and what you want to do so we can help you move your plans forward.
Impact Benefit Agreement Negotiation Support

Technical Reviews and Regulatory Process Support

Community and Economic Development Planning

Indigenous Knowledge and Land Use Studies

Environmental Monitoring

Guardians Program Development

Climate Change Readiness

GIS and Mapping
And so much more:

www.sharedvaluesolutions.com