"Indigenous processes have been serving us for all this time and can continue to serve us if we honour them".
For this month's #wcw, we celebrate one of SVS's own — Katie Turriff! Katie is a Planner on the SVS team and the creator of our Mohawk Mondays series. She is currently busy wrapping up her Master of Community and Regional Planning with a concentration in Indigenous community planning. In a few days, Katie will be presenting her practicum work and we are excited to hear everything she has been learning alongside Squamish Nation and Musqueam Indian Band (link to the presentation here). We're thrilled to have such a passionate and knowledgeable woman on our team. One who is "crushing" it, in our opinion!
Inspiring Conversations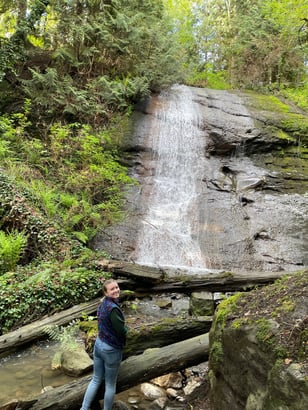 Katie grew up in Belleville, Ontario, and realized in high school that she was really interested in the conversations around urban planning in her hometown. At that time, she learned that planning involves municipal economics, group facilitations, and problem solving within a community. She was drawn to the dichotomy that exists in planning where you can be both conservative and radical. Katie acknowledges that planning can create both positive and negative impacts in a community and has done so throughout history.
She says:
"You have to choose how to use the tools you are exposed to and for what."
Making Connections
Growing up, Katie always called herself "part-Mohawk" but didn't have a strong connection with that part of her ancestry. Her great-great-grandmother Madelaine, was Mohawk, and was the last member of the family to truly speak the language. Madelaine spoke the language to her daughter Mae — Katie's great-grandmother — who spoke it as a young girl to help her grandfather trade baskets at the market. Mae grew up to marry a non-Indigenous man and she spoke the language to her daughter Debbie. Mae's husband grew frustrated hearing the language spoken in the house because he didn't understand it. According to Katie, her great-grandfather didn't want his wife and daughter "sharing secrets" by speaking Mohawk. As a result, the language slowly disappeared from the family.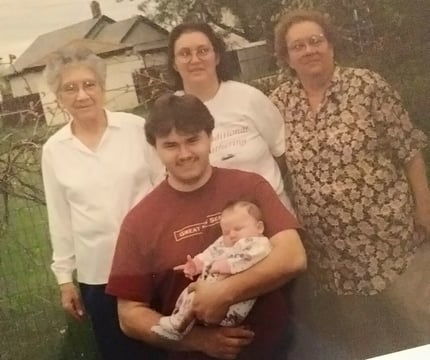 Pictured left to right: Madelaine (great great grandmother), Debbie (grandmother), Mae (great grandmother), Greg (Katie's father) and baby Katie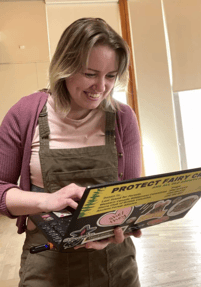 It wasn't until Katie took a Mohawk language course in 2017 at the University of Waterloo that she began her journey to learn the language and understand that part of her identity. Katie found a mentor who encouraged her to continue finding answers to her questions. Questions that included what her background and heritage had to do with planning, especially for Indigenous communities. Katie continued to explore this further and for her thesis, she decided to write about Indigenous planning theory. She is proud of that achievement, saying that she feels it made a significant contribution to planning theory; in particular, it articulated Haudenosaunee planning theory and what is means to the Haudenosaunee people.
A Different Kind of Planning
Katie decided to pursue her master's at the University of British Columbia where she delved deeper into the world of Indigenous community planning. While studying there, one of her classmates encouraged her to come to the Indigenous Student Centre on campus. There, Katie met other students like herself who were connecting and reconnecting with their culture. The students connected through participating in activities like the traditional craft of beading, which Katie learned and began to practice. She brought that learning and connection back into her studies and began to contemplate how it could eventually inform her work as a planner.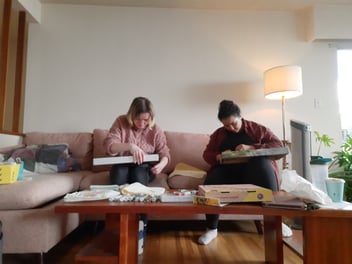 Katie tells us that a Comprehensive Community Plan is a different approach to planning than the one she learned in her undergrad. She explains that it is a larger approach that can be seen as a "basket" that holds many different aspects of a plan, including the community's official plan, language, children, and Elders. The process to develop the plan involves community visioning, something that Katie enjoys facilitating. A favourite learning experience in this process came in the form of phone calls with the Elders. The result of the community's visioning is a plan that Katie says is "less prescriptive and more descriptive" and one that looks ahead 50–100 years to see what is needed to sustain the community.
One of teachings that Katie will incorporate into her planning practice is The Great Law. The Great Law is an Oral Tradition, a way of telling how the Mohawk people govern themselves. This law shows both a mutual respect as well as clear boundaries for the governance of the people and how they interact with their land and each other. It incorporates friendship, love, and respect. Katie hopes to take this very people focused concept to inform how she approaches planning.
Looking to the future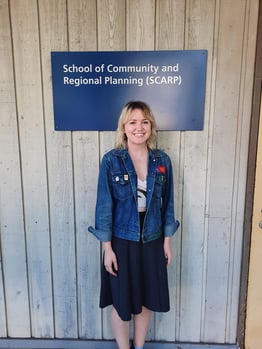 Through her role at SVS, Katie has enjoyed taking her learning and applying it to serve Indigenous communities. We look forward to seeing how Katie will continue to incorporate agenda setting, facilitation, and a trauma informed practice into her planning role. As Katie said during our chat, what she sees for the future of her role is:
"Taking care of the things that have cared for us. Trusting that the relationship with the land will continue to honour what we need."
Like what you're reading? Our WCW campaign is named for the women it features. The women we profile are at the forefront of their fields, all while balancing home life and the challenges of 21st century politics, environment, and reconciliation. And they are – quite frankly – crushing it. See some of our prior #wcw posts here: Erin Knight, Cheyenna Campbell, Kaitlin Littlechild, Samantha Noganosh, Jasmine Labelle, Megan Crow Shoe, Juanita Starr
Get more articles directly to you inbox in our biweekly news and funding digest:

We are an Canadian B Corp, and we assist Indigenous communities with support throughout regulatory processes surrounding major development projects like mines, hydroelectric facilities, transmission lines, highway expansions, oil and gas pipelines, natural resource transport applications and nuclear power.
We have deep context and experience behind the recommendations we provide, having worked for our clients on almost every major project in Canada over the last 10 years. For us, it's all about building long-term relationships with our clients. We want to get to know you and what you want to do so we can help you move your plans forward.
Impact Benefit Agreement Negotiation Support

Technical Reviews and Regulatory Process Support

Community and Economic Development Planning

Indigenous Knowledge and Land Use Studies

Environmental Monitoring

Guardians Program Development

Climate Change Readiness

GIS and Mapping
And so much more:

www.sharedvaluesolutions.com