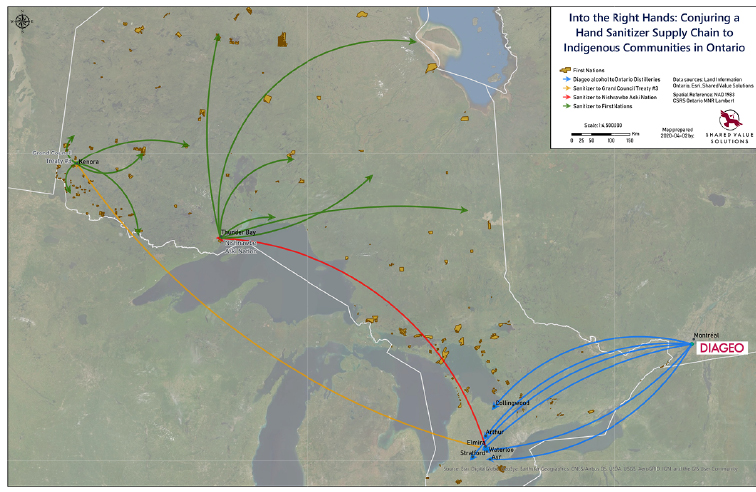 SVS Partners with GlobalMedic to create supply chain to Indigenous Nations requesting support during COVID-19.
It all started when, back in mid-March, First Nations we work with in northern Ontario sounded the alarm that, even with the best possible emergency plan in place, their front-line health workers would be fighting COVID-19 without any hand sanitizer. Other crucial supplies were either scarce or unavailable all together (read the story here).
When we called on friends, old and new, to create the chain to bring vital virus-fighting supplies to over 100 Indigenous Nations in the north, one crucial organization quickly became the logistical hub for this operation: GlobalMedic. We're so blown away by the speed and professionalism with which these folk get the job done that we've partnered with them to help expand their efforts across the country.
About GlobalMedic
The operational arm of the Canadian registered charity the David McAntony Gibson Foundation, GlobalMedic's mission is to "provide humanitarian assistance to those affected by natural disasters and to refugees and persons displaced by conflict. We empower the communities we serve by providing immediate aid, training and support. GlobalMedic strives to deliver the maximum amount of aid with the minimum operating cost."
GlobalMedic is already having a major impact with its COVID-19-related initiatives and direct Indigenous community distribution:
Hand sanitizer program for front-line workers
Emergency food distribution
Hygiene and family kit distribution
Critical infrastructure program – especially for health-related crises
Their rapid, efficient, targeted approach is what we are all looking for right now, and why we're actively seeking support from mining companies to contribute financially to GlobalMedic's initiatives, and connecting Indigenous communities with the resources that GlobalMedic has to offer.
According to GlobalMedic, "We believe in order to control this virus, it is extremely important for all of our local agencies (public and private) to work together to ensure the health and safety of our citizens, and we are doing our part in this ever-changing situation."
More good news is that Manulife is matching donations to GlobalMedic up to $100,000 until they've reached $100,000 in donations, which is a totally achievable goal.
Mining Industry Steps Up: New Gold and Avalon Support GlobalMedic
Last week, Bethany Borody, Director of Sustainability for New Gold, reached out to us to find hand sanitizer for front-line workers in communities close to their operations near Rainy River, Ontario, in Treaty 3 Territory. New Gold was prepared to help with both funds for supplies and ground support for local distribution to the 16 communities with which they have relationships, and beyond. Within days, the GlobalMedic trucks bringing the product, along with hygiene and family kits, were on their way.
When Don Bubar and Bill Mercer of Avalon Advanced Materials heard that Eabametoong First Nation had its first case of COVID-19, they reached out to see how they could help. A mineral development company focused on metals and minerals for use in clean energy and new technology, Avalon has a project close to Eabametoong. Although the community had a comprehensive pandemic plan, Eabametoong's emergency response team gave us a list of supplies they needed to support their efforts to contain the spread, and to support families living in this remote fly-in community. They were looking for 300 litres of hand-sanitizer for frontline workers, home and facility surface cleaning supplies for approximately 300 homes/facilities and personal hygiene products for households. GlobalMedic, in conjunction with the army of small distilleries in the Guelph/Kitchener-Waterloo region producing the hand sanitizer, was able to meet those needs. Avalon was able to direct its contribution to the local community, and Eabametoong will have a better chance at fighting COVID-19. That's the kind of impact you can expect for your donations as a mining company.
Government of Ontario Also Funding Hand Sanitizer Initiative
At the top, we mentioned First Nations, Industry, NGOs and government, so we'd be remiss in not mentioning that the Province of Ontario has also kicked in funds for the first round of hand sanitizer production and distribution. A shout-out to Minister Greg Rickford's office for understanding the need and being willing to help.
The ball is well and truly rolling on this initiative. In the midst of so much uncertainty and stress, we are humbled and in awe of the powerful constellations of players – who under normal circumstances might never have connected – are coming together to do the right thing for people in whatever ways we all can.
If you are an Indigenous Nation…
…with a wish list of supplies of this nature and quantities you are looking for, please let us know. With your information on needed supplies, we can then estimate costs and find corporate donors to support those costs via donations to GlobalMedic.
If you are a mining company, energy supplier, infrastructure contractor or other business working with Indigenous communities and looking to donate…
…you can make a donation directly to GlobalMedic, and we will work with you and with GlobalMedic to directly target the donation to the needs in a specific region, if that is your desire.
Watch this space for updates as the initiatives evolve.
Other COVID-19 Actions SVS is Taking for Indigenous Communities
We are working our networks and pulling out all the stops to find ways to support the health and wellbeing of you and your communities. Here are links to some of the projects we are working on:
Hand Sanitizer to the North https://www.thestar.com/news/canada/2020/03/31/indigenous-northern-communities-are-short-on-hand-sanitizer-small-breweries-are-answering-the-call.html.
Other Covid-19 resources:
The Talon: Covid-19 Resource Edition
The Talon: Covid-19 Prepareness Edition
The Talon: Covid-19 Support Edition
Mighty Bubble, Hand Washing Superhero
We are a Canadian B Corp, and we assist Indigenous communities with support throughout regulatory processes surrounding major development projects like mines, hydroelectric facilities, transmission lines, highway expansions, oil and gas pipelines, natural resource transport applications and nuclear power.
We have deep context and experience behind the recommendations we provide, having worked for our clients on almost every major project in Canada over the last 10 years. For us, it's all about building long-term relationships with our clients. We want to get to know you and what you want to do so we can help you move your plans forward.