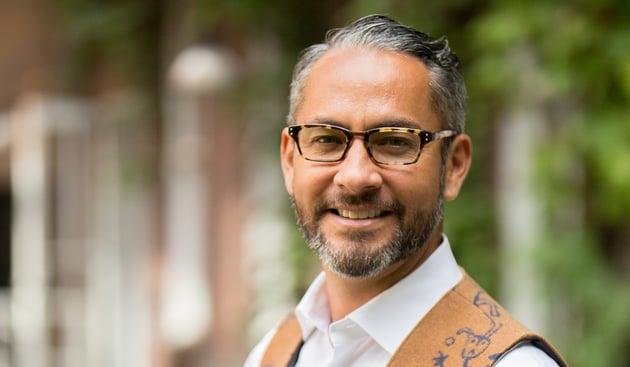 Guest Post by JP Gladu, Former President and CEO of the Canadian Council for Aboriginal Business
"First Nations that own economic development corporations are asking for the same assistance provided to all businesses in Canada. Without it, First Nations will experience significant impacts to their communities." - JP Gladu
JP Gladu shares his thoughts on crucial issues facing Indigenous businesses during COVID-19:
The Emergency Wage Subsidy needs to include Indigenous economic development corporations.

Loans to Indigenous businesses must address the chronic barrier to accessing sufficient capital.

Indigenous businesses have much to offer during this crisis – and governments should be looking to them as part of their 5% procurement commitment.

Indigenous Businesses are well positioned for orphan well clean-up efforts.
This is JP's second guest post. Watch his video on the Federal 5% Indigenous Procurement and Supply Change™ here.
Here's what JP has to say today:
Emergency Wage Subsidy Crucial to First Nation Businesses
The wage subsidy emergency program is of extreme importance to First Nation businesses and needs immediate clarity for First Nation Corporations to enable them to tap into the program.
Mikisew Cree Nation Example: Significant employer needs wage subsidy support
One example is Mikisew Cree Nation and its economic arm, the Mikisew Group of Companies, in Northern Alberta. Because of the COVID-19 crisis and related impacts, they currently have a total headcount of about 420 employees, down from a peak of about 867. Reductions to their headcount of up to 70% on some sites have put significant strain on how contracts are structured, as well as on their overhead. Although reduced work hours will significantly help with costs, as with any business, the beachhead they have worked hard to establish will begin to erode without appropriate support.
The initial calculations regarding the subsidy would provide 75% of wages up to $58,700. As many of their employees are above this threshold, it would have a significant impact for the group of companies if all employees were eligible. This would ensure that no further actions would be required and that they could continue to employ as many people as possible, supporting the company, the staff, and the region.
The Challenge: Current Legislation Excludes First Nation Community-Owned Enterprises
The way the current legislation is worded it excludes First Nation community-owned enterprises that operate business as limited partnerships. In fact, many First Nation communities from across the country are in similar situations. First Nation communities are primarily structured as limited partnerships and would typically have a Trust and general partner, which would effectively disqualify many First Nation businesses from the wage subsidy.
The Mikisew Cree First Nation employs hundreds of people within Alberta, but by current measures, they would not qualify for the EWS and would be placed in a compromised position. First Nations like Mikisew Cree are asking for the same assistance provided to all businesses in Canada. Without it, they and many other Indigenous community development corporations will experience significant impacts to their communities.
The Policy Fix: Change the Eligible Entity Definition
Because the intent of the legislation is to retain jobs, the type of entity that employs individuals working in Canada should not restrict the ability of the entity to claim the subsidy.
Here's how the EWS currently defines an "eligible entity":

There are at least three simple changes that could clarify the eligibility requirements for First Nations and their business entities:
The legislation could be revised to specifically include trusts, or at a minimum, commercial trusts, as eligible entities.

As another alternative, it could be altered such that a "prescribed organization" include an Indigenous corporation acting as the general partner or trust, all of the members or beneficiaries of which are either an eligible entity or a First Nation community, and the partnership or trust operates a business that is not a public institution.

The phrase in the Emergency Wage Subsidy, "all of the members of which are described in this paragraph or any of paragraphs (a) to (d)," be deleted from paragraph (e) of the definition "eligible entity" such that any partnership can be considered an eligible entity. As the government has stated they do not intend to provide the subsidy to public institutions, the exclusion provided in paragraph (d) of this definition should be sufficient to accomplish this.
Accessing Sufficient Capital: Remove Chronic Barriers to Success
I applaud, as do many Indigenous business owners and people across the country, the Federal government's recent commitment of a $306 million business aid package. Repayment terms are still being worked out, but businesses will be eligible for $40,000 in financial aid: $30,000 as an interest-free loan and the rest as essentially a grant.
I've been communicating with my sister who owns Creative Touch Interior, a design and interior decorator company in Kelowna, BC, and she's expressed relief that these resources are on the near horizon. For Indigenous businesses with large balance sheets, the $40k may not be enough. The cap of $30K interest free loan may not be enough and should be reconsidered as our country moves through the pandemic.
The Canadian Council for Aboriginal Business research has identified access to capital as one of the top barriers to success. The National Aboriginal Capital Corporation Association has also been advocating for an increase in capital to the Aboriginal Financial Institutes to support Indigenous entrepreneurs. Indigenous Businesses have largely been under financed, which has impaired their ability to compete to their fullest extent. Again, government intervention to support the sustainability and future growth of Indigenous business during this pandemic is admirable. I do hope as do many Indigenous leaders and businesses that the government continues this financial investment beyond the Covid-19 pandemic.
Provincial governments also have a role to play in support of the Indigenous economy which will have a direct and positive impact in each province. Premier Kenney in Alberta and his government has set aside $1 billion in backing for First Nation and Metis communities to support their equity positions in energy projects through the Alberta Indigenous Opportunities Corp (AIOC). This innovative approach has the ability to significantly bolster the Indigenous economy, and also provides important certainty for Canada's resource and infrastructure projects as they cross Indigenous territories.
Supply Chains and the Federal Commitment to 5% Indigenous Spend
During my time at the CCAB, our goal was to increase the amount of spend for both the private and government sectors to Indigenous business. The Procurement Champions initiative was established with my first co-chair Mark Little, now CEO of Suncore. Nearly 60 companies in total at the time of my departure had signed up to increase their spend towards Indigenous businesses. We were able to showcase the success and ability of Indigenous business from across the country and across sectors as well as illustrating the importance of robust supply chain practices and the link to the Indigenous economy.
Through the research at CCAB, we were able to prove to the Federal government that our net capacity to supply goods and services was over 24%, meaning our Indigenous businesses could exceed a 5% target - a major factor in influencing the government to set the target.
Look to Indigenous Businesses During COVID-19 Crises
There are numerous Indigenous businesses that have the ability to support Canada in its fight against COVID-19. Our federal and provincial governments have an opportunity at this time to make significant strides to reach the 5% target by targeting Indigenous businesses. They should work with organizations like CCAB to generate an immediate list of Certified Aboriginal Businesses that can provide goods and services in response to the current COVID-19 crises.
There are First Nation camp service firms who could provide emergency camp services (rooms, food, janitorial) in short time frames to manage potential outbreaks in a region. Pending community outbreaks at Eabametoong First Nation and Gull Bay First Nation could use these kind of supports.
Indigenous Businesses Well Positioned for Orphan Well Clean-up
The province of Alberta has been allocated $1 billion in financial resources from the federal government to manage orphan wells. In addition, the Alberta Orphan Wells Association has been allocated $200 million. This is a great opportunity for both the government and the AOWA to build meaningful relationships with Alberta's Indigenous communities.
Having spent a significant portion of my time at the helm of CCAB in Alberta, I can state without hesitation that the Indigenous capacity to supply the capacity to complete this work is ample. There are First Nation economic development corporations with the know-how and capability such as Primco Dene, Pimee Well Services, ACDEN, Fort McKay Group of Companies and Mikisew Group of Companies to name a few.
In short, the province and AOWA need to ensure their procurement policies in support of the orphan wells provide amply opportunity for the provinces Indigenous companies. Creating adders and minimal thresholds such as 5% would go a long way in building relationships and creating long-term certainty with Canada's Indigenous peoples.
This is an opportunity for the Alberta government to double down on their support for the First Nation and Metis businesses. Coupling strong procurement practices and targets aimed at Indigenous businesses with the billion-dollar AOIC fund is absolutely the right course of action."
COVID-19 Initiatives to Support Indigenous Communities
We are working our networks and pulling out all the stops to find ways to support the health and wellbeing of you and your communities. Here are links to some of the projects we are working on:
Into the Right Hands: Conjuring a Hand Sanitizer Supply Chain to Indigenous Communities

https://www.thestar.com/news/canada/2020/03/31/indigenous-northern-communities-are-short-on-hand-sanitizer-small-breweries-are-answering-the-call.html.
Other Covid-19 resources:
The Talon: Covid-19 Resource Edition
The Talon: Covid-19 Prepareness Edition
The Talon: Covid-19 Support Edition
Mighty Bubble, Hand Washing Superhero
We are a Canadian B Corp, and we assist Indigenous communities with support throughout regulatory processes surrounding major development projects like mines, hydroelectric facilities, transmission lines, highway expansions, oil and gas pipelines, natural resource transport applications and nuclear power.
We have deep context and experience behind the recommendations we provide, having worked for our clients on almost every major project in Canada over the last 10 years. For us, it's all about building long-term relationships with our clients. We want to get to know you and what you want to do so we can help you move your plans forward.
P.S. Our website has been hacked and is currently under repair.